New pragmatic Bond score by Thomas Newman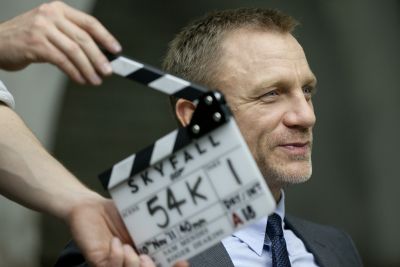 Thomas Newman, having never written a proper action score before Skyfall, succeeded in updating Bond's aesthetic with a decidedly modern score.
Tracks such as the opening Grand Bazaar Istanbul, Jellyfish, Enquiry, and Deep Water are tremendously exciting, with their mixture of percussion rhythms, electric guitar chords, and thrilling trumpet blasts within a large and powerful orchestra. 
There are a few overt statements of John Barry's legendary James Bond theme. It usually appears as the countermelody to the main action whenever Bond does something cool. 
Even more elusive is the melody from the main song, Skyfall, which was written by Adele and Paul Epworth, and is performed over the opening credits by Adele, but does not appear on the soundtrack CD. 
It should be noted that Newman has come up with the least romantic score ever for a Bond film. There are no love themes here, just a rich orchestral restlessness that conveys another type of beauty.