Spanish motifs contributed by Emmanuel Chabrier to the rise of Impressionism in France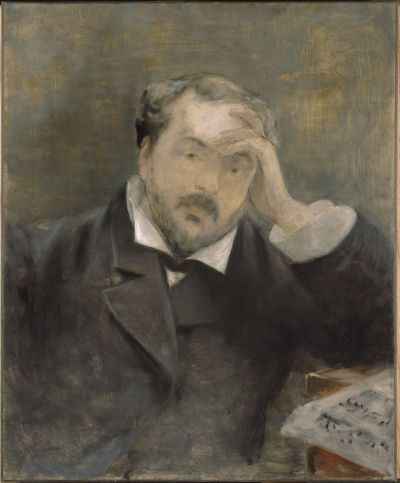 Emmanuel Chabrier by Edouard Manet
Emmanuel Chabrier
was a French composer of the
Romantic era
whose legal career forced him to study and write music mostly in his spare time. Despite the fact that the composer did not have an academic education, his creativity had a serious impact on a whole generation of French impressionists such as
Claude Debussy
,
Maurice Ravel
, and
Erik Satie
.
One of the most famous works of Emmanuel Chabrier is España Rhapsody written on his trip to Spain after the decision to leave his service in the Ministry of the Interior to devote himself entirely to music.
First performed in 1883, España Rhapsody not only received critical acclaim but also opened the door for Spanish folk motifs into French romanticism, prompting many composers to create their masterpieces in the vein of Spanish themes.
Listen to Emmanuel Chabrier's España Rhapsody performed by John Eliot Gardiner with Wiener Philharmoniker:
Since España Rhapsody was originally written for piano, the composer himself repeatedly performed it for the public, captivating the audiences with his very special playing technique. 
Here is a description of his recital given by the wife of the painter Renoir, a friend of Emmanuel Chabrier:
"One day Chabrier came; and he played his España for me. It sounded as if a hurricane had been let loose. He pounded and pounded the keyboard. [The street] was full of people, and they were listening, fascinated. When Chabrier reached the last crashing chords, I swore to myself I would never touch the piano again. […] Besides, Chabrier had broken several strings and put the piano out of action."
From his Spanish trip, Chabrier brought another piano work titled Habanera, which, unlike the bright extravagance of the rhapsody, demonstrates a calm and pacifying mood.
Listen to Marcelle Meyer play Emmanuel Chabrier's Habanera:
Largely due to these works, Chabrier was praised as the founder of French Modernism who inspired the younger generation of composers to create works based on Spanish folk motifs, the most famous of which were Debussy's Ibéria and Ravel's Rapsodie Espagnole.