The Flower Duet of Lakmé: the love drama of an Indian girl and a British soldier made airborne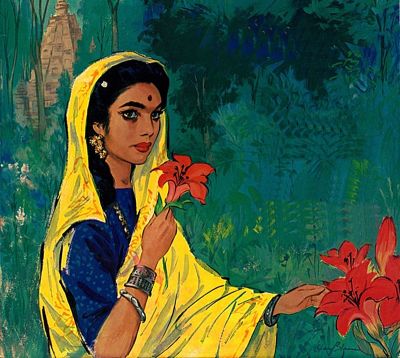 Lakme LP
The Flower Duet is a famous operatic duet which popularity has spread far beyond interests of classical music audience after its melody featured in a number of films and commercials. The duet written for soprano and mezzo-soprano takes place in the first act of Léo Delibes' opera Lakmé and is a conversation between the daughter of a Brahmin priest and one of her servants as they go to gather flowers by a river.
The opera, based both on Théodore Pavie's story
Les babouches du Brahamane
and novel
Le Mariage de Loti
by Pierre Loti, unfolds as a dramatic love tale between an Indian girl and British soldier. First performed in 1883,
Lakmé
brings together many popular opera themes of the late
Romanticism
such as an exotic location, unfamiliar religious rituals, colorful flora and strange life of Western colonials in a foreign land.
The opera takes viewers to British India in the late 19th century where many Hindu people are forced to follow their religious rituals in secret. Accidentally finding himself near a Brahmin temple, officer Gérald meets Lakmé whose name comes from the goddess Lakshmi, the wife of Vishnu—one of the three principal deities of Hinduism.
Gérald and Lakmé fall in love but their relationship is disapproved of by the girl's father who is the high priest of the temple. The priest seriously injures the officer, after which the lovers manage to hide in a forest where Lakmé is trying to cure her admirer.
Listen to The Flower Duet performed by Joan Sutherland and Jane Berbié with Orchestre National de l'Opéra de Monte-Carlo:
While Lakmé is away to find sacred water that should serve as a remedy for her lover, one of Gerald's friends pays a visit to remind him of the duty to the military service. Returning from the quest, Lakmé feels a sudden change in Gérald which eventually forces her to commit suicide by taking the poisonous leaves of Datura.
Back in the
1980s
, the Flower Duet gained first exposure when British Airways used one of its adaptations by English composer Howard David Blake in their commercials. For their global advertising campaign in the
1990s
, British Airways also went for another adaptation of the piece made by Greek composer
Yanni
and English musician
Malcolm McLaren
, most known as a promoter and manager of the Sex Pistols.
The Flower Duet can also be heard in TV shows, video games and films, including the comedy
Meet the Parents
and horror film
The Hunger
starring 
David Bowie
.
Watch the new instrumental version of the Flower Duet composed by Lyndon Ooi, a BA quality engineer, and performed by the British Airways Orchestra which is made up of 30 colleagues and external musicians: