Cachao: "Even when I am shaving I compose mambos"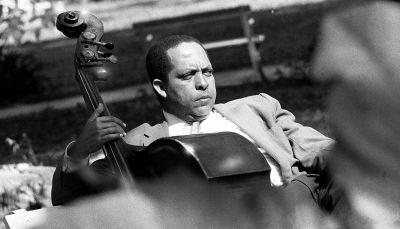 Cachao by Mario García Joya
Israel López Valdés (1918–2008), known invariably by the nickname Cachao, was a Cuban double bassist and composer, widely known as mambo co-creator.
López, the youngest of three children, started learning guitar when he was only six years of age. Part of a vastly musical family, Cachao later estimated that 40 of his relatives had been bassists. 
At the age of 12, he made his début as a contrabass player with the Orquesta Filarmónica de La Habana, eventually performing under guest conductors including
Herbert von Karajan
and
Heitor Villa-Lobos
.
While the Filarmónica paid his wages, Cachao kept playing with the best musicians in Havana's legendary nightclubs. He began transforming the rhythm of Cuban music, extending and accelerating the final section of the stately Cuban danzón dance into the mambo.
He said in an interview:
"My brother and I would say to each other, Mambea, mambea ahí, which meant to add swing to that part." 
The springy mambo bass lines Cachao created in the late '30s became a foundation of modern Cuban music, of the salsa that grew out of it, and also of the Latin-influenced rock'n'roll. For much of the 20th century, Cachao's innovations set the world dancing.
Watch Cachao's studio session for Mambo Cambió de Swing: