Minnie the Moocher: essential step in the history of scat singing by Cab Calloway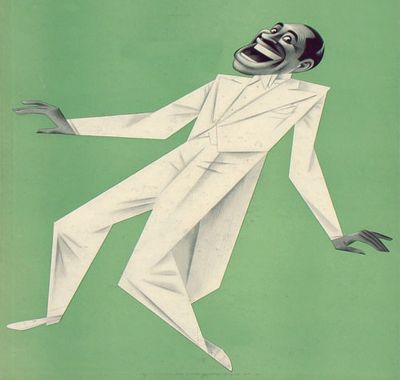 Cab Calloway LP cover
Minnie the Moocher
is an iconic
jazz
 composition showcasing essential examples of scat singing—a vocal technique for conducting a melody using meaningless syllables instead of lyrics. Originally recorded in 1931 by
Cab Calloway
and His Orchestra, the song made history as the first jazz record to sell a million copies.
Throughout Cab Calloway's career, Minnie the Moocher was a highlight of his shows during which he involved the audience in a call-and-response performance of the scat sections such as "hi de hi de hi de ho" that were improvised and grew progressively complicated from verse to verse.
According to one theory, the tradition of performing scat after each verse of Minnie the Moocher began to after Cab Calloway forgot some of its lyrics during the broadcast and replaced them with "hi-de-ho". The energetic song is full of slang telling a tragic story of Minnie, a woman who stepped into drugs and overdosed. So the lyrics definitely hint at the use of cocaine and opium and then refer to the insane drug-induced trip in which Minnie meets the king of Sweden who gives her a diamond car with platinum wheels.
Listen to Minnie the Moocher by Cab Calloway & His Orchestra:
The song had a massive impact on pop culture, appearing in animations and films including the 1980 musical comedy
The Blues Brothers
starring John Belushi and Dan Aykroyd. The film features a whole array of legendary artists, one of whom is Cab Calloway singing
Minnie the Moocher
:
Curiously, Cab Calloway himself identified the role of the song in his life by titling his autobiography Of Minnie the Moocher and Me.