Moonlight Serenade got its name to contrast the sun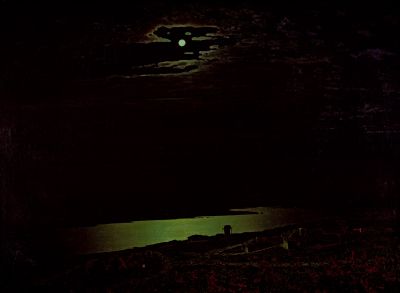 Moonlight Night on Dnipro by Arkhip Kuindzhi
Glenn Miller, American big band leader, composer, and trombonist, is considered the primary musical symbol of the World War II generation. For many listeners, his hit songs define the swing era itself.
Miller wrote the melody for his renowned Moonlight Serenade in early years while he was just a trombone player in Ray Noble's band in 1935. The lyricist Eddie Heyman added words, and the song was titled As I Lay Me Down To Weep. 
Miller didn't record or publish the song with these lyrics, though in 1938 he used the instrumental version for his radio broadcasts on the NBC network. Next year the publisher Robbins Music bought the melody and had Mitchell Parish write a new set of lyrics for it, which were given the title Wind In The Trees. 
The corrections didn't end there, however: not that long after the latest rewrite, Parish had to redo the lyrics again, this time for B-side single of Miller's own band. The single was called Sunrise Serenade and they thought Moonlight would be a natural contrast for Sunrise as a B-side. Parish did just that, naming the new lyrics Moonlight Serenade, but Miller ended up bypassing them all together and recording the song as an instrumental. 
The recording used a clarinet-led saxophone section, which is widely considered to be the classic Glenn Miller style:
There were a few performances where Miller used a vocalist for this song, but it wasn't until 1959 when the doo-wop group The Rivieras recorded it that a version with lyrics became popular.
However, the most popular vocal version belonged to Frank Sinatra, who recorded it in 1966 for his album Moonlight Sinatra: 
Miller stunned the music world by disbanding his orchestra and enlisting in the army in the fall of 1942. Miller himself wrote:
"(...) put a little more spring into the feet of our marching men and a little more joy into their hearts." 
He spent two years leading the all-star Army Air Force Band, a 42-piece orchestra made up of some of the best players from the classical and jazz fields.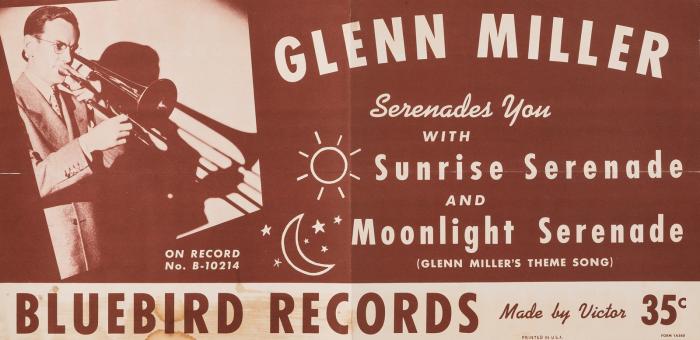 When Miller boarded a London-to-Paris military flight on Dec. 15, 1944, he transcended his celebrity status to become a figure of American myth. The flight never reached its destination, and no trace of the plane was ever discovered. Miller's fate has been the topic of much speculation, including theories ranging from bad weather to an accidental hit by British bombers jettisoning their payloads over the English Channel.