The Blues Brothers' greatest gamble becoming one of their most enduring hits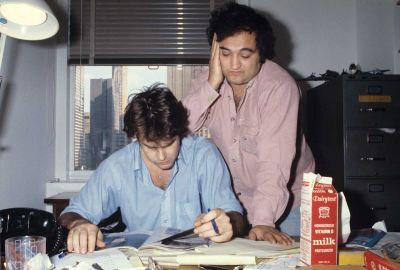 Dan Aykroyd and John Belushi
The Blues Brothers were once the stars of their era, listed among the most popular groups of the late '70s.
Vocalist Jake and harpist Elwood Blues were the well-known aliases of John Belushi and Dan Aykroyd, both massive music lovers, who first met backstage at NBC.
Aykroyd recalls:
"We had heard of each other, we took one look at each other. It was love at first sight."
Their project started as a small skit on Saturday Night Live but quickly snowballed to become a true phenomenon, complete with hit records, a sold-out concert tour, and a feature film. 
The Blues Brothers film was an expensive pitch, particularly for a comedy, at the estimated budget was at $17.5 million. Even with car chases and crashing helicopters involved, it was still a risk, given that the action revolved around colorful musical numbers.
Upon its release in 1980, it was an immediate success, partially due to every big musical sequence starring pop giants of the time:
Ray Charles
, Aretha Franklin, James Brown, and
Cab Calloway
, all enhanced by the lead performances of Jake and Elwood.
The Best of the Blues Brothers was released soon after the film, further solidifying their massive popularity which, sadly, didn't last long. In 1982, Belushi died of an accidental drug overdose, and the Blues Brothers' saga effectively came to an end.
Cab Calloway - Minnie the Moocher:
Aretha Franklin - Think:
John Lee Hooker - Boom Boom: