The art of Caribbean rhythms by the Garifuna Collective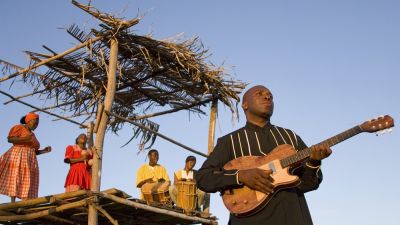 The Garifuna Collective
Garifuna music is closely related to the culture of the Garifuna people living primarily on the Caribbean coast of Belize, Guatemala, Honduras, and Nicaragua. Based on the fiery dance rhythms of traditional punta and paranda genres, their songs and chants contain lyrics in the vanishing Garifuna language which is native to less than 200,000 people.
Garifuna traditional music first entered the world stage with the release of the Wátina album by Andy Palacio, Belizean musician and a leading activist for the Garifuna people and their culture. Released in 2007, Wátina reached No. 1 on the World Music Charts Europe, and Andy Palacio was named a UNESCO Artist for Peace.
To record Wátina, Andy Palacio founded The Garifuna Collective, bringing together several generations of musicians from different countries of the Caribbean. Having gained impressive international renown, the album offers a truly mesmerizing experience with its variety of vocal lines developing on simple riffs produced by acoustic guitar and bass with the support of diverse percussion.
Listen to Wátina by Andy Palacio and The Garifuna Collective:
After introducing Garifuna music in such a successful arrangement, Andy Palacio unexpectedly passed away due to a stroke at age 47. The Garifuna Collective continued his mission, performing in various countries of Latin America and soon—five years after the death of their leader— releasing Ayó (meaning "goodbye" in the Garifuna language) as a tribute to Palacio.
Listen to Ayó by The Garifuna Collective:
In 2019, the Garifuna Collective released
Aban
 with the
electric guitar
 taking the role of the main instrument. Combined with a modern drum 'n' bass arrangement, this stylistic move gave their music a special groove. Against the background of the somewhat dimmer instrumentation, vocals seem to have gained more freedom, ranging from solo folk singing to artful polyphonic chants.
Listen to Uganu from 2019 Aban by The Garifuna Collective:
In all three albums, the band's songs show unusual and delightfully diverse melodic lines performed by several vocalists supported by simple harmonic sequences and intense percussion accompaniment. As a whole, acoustic Wátina and Ayó maintain a warm folk sound, while Uganu displays wider influences of reggae which are predominantly found in the album's electric groove and signature Caribbean rhythms.