Tinariwen: 40 years of nomadic desert music driven by Ibrahim Ag Alhabib's guitar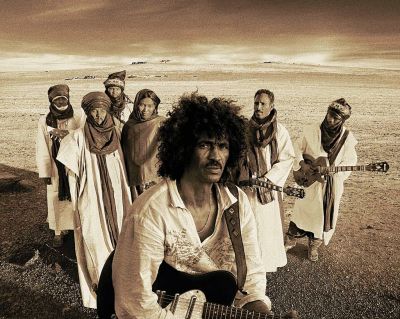 Tinariwen's Aman Iman CD cover
Formed by
Ibrahim Ag Alhabib
in the late
1970s
, the African band
Tinariwen
always had a clear mission to preserve the musical culture of the nomadic tribes of the Tuareg people who have guided caravans through the Sahara desert from time immemorial. Most of the band's lyrics written in the Tamashek language are imbued with the struggle of exile that Toureg people faced in the second half of the 20th century.
For the first twenty years of their career, Tinariwen had achieved fame only locally through recording their street performances and self-distributing the tapes. At that time, the band's trance-like songs featured only an acoustic
guitar
accompaniment with traditional African percussion, but since then their sound has evolved into something more driven and 
electric guitar
-reliant, capturing the minds of Western audiences with its timeless, almost magical, mixture of styles and
genres
.
Since the release of their first commercial recording in 2001, Tinariwen have developed a style so deeply personal it would be hard to mistake it for anyone else's; it is consistent yet moving nonetheless, with its folk vocal lines—gathered from many corners of Africa—intertwining with modern arrangements of slightly overloaded electric guitars. Many fans tend to hear the 
blues
 influences with elements of hard rock in the music of Tinariwen, but this is most likely due to the distinctive sound of Western instruments and not any particular melody or vocal manners that the band exhibit.
The bandleader Ibrahim Ag Alhabib considers the desert to be his only home, saying that in his mind he is always there, even while away on his many European and American tours. So closely tied he is to the vastness of his home, that he initially felt rather uncomfortable in concert halls, preferring open stages. Feeding the band's creativity, the atmosphere of the desert permeates their recordings in a pleasantly organic way, the authenticity of which is achieved by Ibrahim Ag Alhabib's choosing studios located next to deserts for the musicians to attend during the sessions, be it for inspiration or recording the arrangements.
Watch Nànnuflày from Tinariwen's 2017 album Elwan:
With their use of Western instruments from which the music harmony naturally derives, Tinariwen deliver the now-memorable rattling sound by lowering the guitar pitch and applying the capo to correctly follow the chords. This trick reduces string tension and produces a sound similar to the traditional instruments of Gnawa people from North Africa, such as the sintir or guembri that serves as an accompaniment to the trance-like stories of roving musicians.
Gnawa from Algiers with his guembri by Jean Geiser
: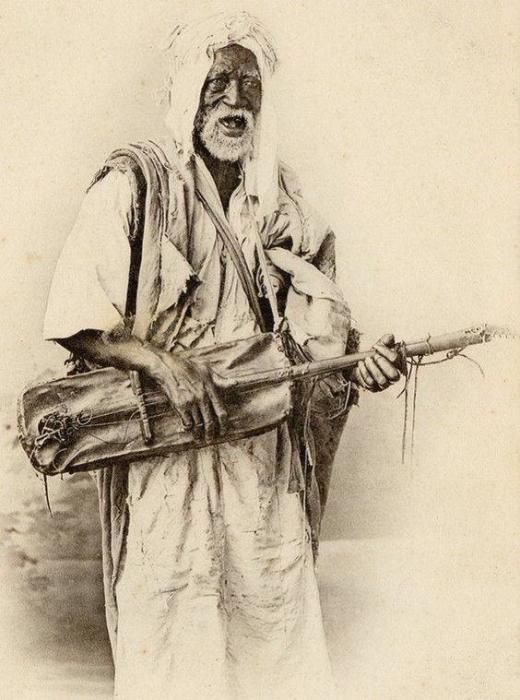 The very name Tinariwen, as translated from Tamashek language, means "guys from the desert" and is a token of the time when Ibrahim Ag Alhabib wandered between settlements with his nameless band to tell his magical stories.