Tuff Enuff: The Fabulous Thunderbirds' sole chart-topping song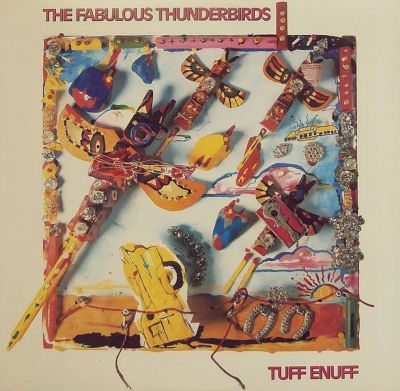 Tuff Enuff LP cover
Tuff Enuff
 stands as the best-known track from the blues rock ensemble 
The Fabulous Thunderbirds
. This song serves as the opening piece on their 1986 album of the same title, a pivotal moment in the band's history as it marked a shift toward a more mainstream musical direction. The songwriting credit for
Tuff Enuff
 goes to
Kim Wilson
 who has served as the band's frontman and remains its sole permanent member, a role he's held since 1976.
Released as a single, Tuff Enuff achieved significant chart success reaching the 10th spot on the Billboard Hot 100 and securing the fourth position on the Billboard Mainstream Rock Tracks chart. This accomplishment, in fact, distinguishes The Fabulous Thunderbirds as "One Hit Wonders" due to their singular major chart triumph.
Lyrically, Tuff Enuff humorously portrays the narrator's affectionate appeal to his girlfriend. The protagonist passionately expresses his love and unwavering commitment to his partner, asserting his willingness to undertake even the most arduous or perilous tasks to please her. He humorously enumerates his readiness to go to great lengths, including walking on hands and knees, wrestling wild animals, and even swimming across vast seas, all in the name of his profound love for her. The lyrics underscore his tireless determination and his readiness to go to extremes, all motivated by his profound affection.
Listen to Tuff Enuff by The Fabulous Thunderbirds:
The enigmatic title of the song becomes clear when one examines the repetitive chorus which continuously poses the question "Ain't that tough enough?" In essence, Tuff Enuff is merely a playful alteration of "Tough Enough," a reflection of the song's underlying theme.