Berceuse: Chopin's variations on his mother's favorite lullaby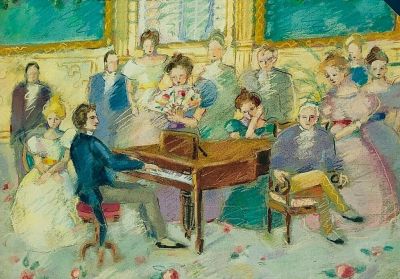 Chopin LP cover
Berceuse
is a lyrical piano piece written by
Frédéric Chopin
 late in his career and first published in 1844. The work was originally titled
Variantes
as it was composed as a series of 16 short variations to a Polish traditional melody.
Chopin was among the first composers of the
Romantic era
to write a piece entitled
Berceuse
which can be classified as a
lullaby
since the word "berceuse" means "girl or woman who rocks a cradle" in French.
Melodically, Chopin's lullaby follows—at a fairly slow tempo—the popular Polish folk song Już miesiąc zaszedł psy się uśpiły (The moon had set, the dogs were asleep) that traditionally uses the lyrics of the idyll Laura i Filon by Franciszek Karpiński. According to some sources, Chopin becamse fascinated by this melody in his childhood, having been exposed to the lullaby through his mother as it had been her favorite song.
Curiously, Berceuse is not the only Chopin piece based on the traditional melody of Już miesiąc zaszedł psy się uśpiły. The same theme can be found in his early work Fantasy On Polish Airs where it appears in the original tempo.