Serenata Española by Joaquim Malats: the piano piece that conquered guitar world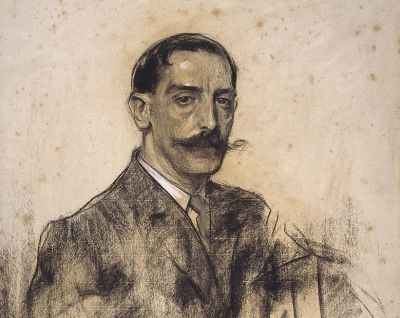 Joaquim Malats by Ramon Casas
Serenata Española
, written by Spanish piano virtuoso
Joaquim Malats
, has been the most popular work among guitarists for more than a hundred years which served as the main basis for the composer's fame in modernity. The first guitar transcriptions of
Serenata Española
were made in the early 20th century by classical guitar legend 
Francisco Tárrega
and his pupil Severino García Fortea while perhaps the most influential adaptations belong to
Andrés Segovia
and
Julian Bream
.
It is believed that the main merit of Joaquim Malats was his masterful interpretation of other composers' works including those of his friend and countryman
Isaac Albéniz
, who, in close collaboration with Malats, created his final masterpiece
Iberia
which is considered to be one of the most influential piano works. Joaquim Malats' incredible prowess as a piano player also showed itself during his extensive tours throughout Europe and America where listeners were amazed to hear his incredible piano technique. Unfortunately, Malats died from tuberculosis at the peak of his career, leaving a little more than a dozen of self-composed works.
Joaquim Malats was born in 1872 in the suburbs of Barcelona. At the insistence of his father, he attended and graduated the Municipal Conservatory of Barcelona under the direction of
Juan Bautista Pujol
who educated many prominent Spanish pianists of the late
romantic period
including
Enrique Granados
and Ricardo Viñes. Since the family did not have a stable income, Malats decided to become a carpenter after his graduation from the conservatory, but his father was able to convince the city municipality to provide funds for Malats' further education at Paris Conservatory.
In his Paris period, Malats based most of his compositions on the traditions of Spanish folk music which, at the time, were extremely adored. He became one of the best pianists of his time whose main objective was to showcase the works of the modern composers; after all, before recorded music took off, these interpretative concerts were the only opportunity one had to listen to new compositions.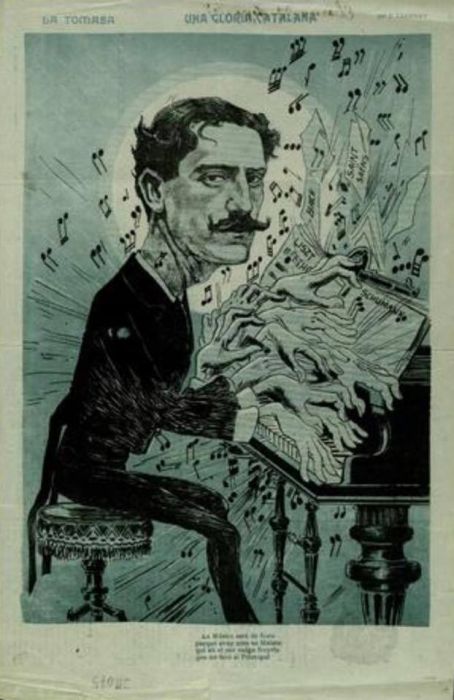 Further development of Malats' performing career was stalled by his progressing illness that forced the composer to stop touring and return to his homeland where he spent two years teaching the piano and composition before his death in 1912.
The composer's invaluable contribution to the piano movement of the early 20th century is well-illustrated by Albeniz who wrote to Malats about the true motivation behind his most famous work:
"I am writing Iberia (…) essentially because of you and for you."
Historically, Spanish folk music is guitar-oriented, so it is not surprising that the compositions of Spanish pianists representing national post-romanticism and impressionism are so popular among guitarists. Undoubtedly, the most famous piano work rearranged for classical guitar is Albéniz's
Asturias
which, in the opinion of musicologists, inspired Malats to compose
Serenata Española
.
Watch Julian Bream perform his transcription of Serenata Española by Joaquim Malats:
Like
Asturias
, for which Albéniz had chosen the
bulería
musical form with a triple metre and the 
Phrygian
mode,
Serenata Española
 shows similar elements typical of the flamenco genre that originated in Andalusia in the late 18th century.
Listen to Joaquim Malats' Serenata Española performed by Andrés Segovia who artfully highlights the melodic passages of the piece:
Although the piece is composed in an inconvenient for a classical guitar musical key, it develops in a suitable register, drawing attention to the rhythmic movement of the middle-voices which, together with the guitars' timbre, deliver a dense and slightly overloaded sound associated with riffs of modern guitar-oriented music.
Judging by the rather squeaky record preserved on the wax cylinders, the composer himself performed Serenata Española in C minor, while guitarists prefer the versions transposed to E minor.
Listen to Serenata Española performed byJoaquim Malats himself in 1903 (starts at 13:28):
Phonograph cylinders, developed by Thomas Edison, were the first commercial sound recording format and appeared on the market at the end of the 19th century. Although wax cylinders had a lot of advantages over disc records, they later lost the fight for market dominance precisely due to poor quality of the audio.
Wax cylinder on Dictaphone dictation machine in 1922: