Bernini's famous fountains are filled with Respighi's music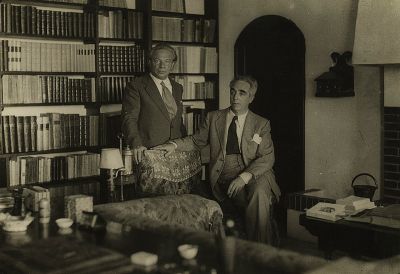 Ottorino Respighi and Claudio Guastalla by Archivio Storico Ricordi
Composer:
Ottorino Respighi
Fontane di Roma is a symphonic poem written by the Italian composer Ottorino Respighi in 1916. It depicts Rome's fountains at different times of the day.
In Rome, where the water has been particularly good since the ancient times, fountains that carry public water are a tourist attraction in nearly every square. The fountains in Respighi's poem are famous Baroque creations of the sculptor Gian Lorenzo Bernini. 
Ottorino Respighi explained that he composed the poem "to reproduce by means of tone an expression of nature". The poem, divided into four parts, is inspired by four of Bernini's fountains that especially moved Respighi. Each fountain was:
"contemplated at the hour in which their character is most in harmony with the surrounding landscape or in which their beauty appears most impressive to the observer." 
The poem is remembered as the most creative turning point in Respighi career, as it constituted his first great success as an orchestral composer, and to this day it remains his best known work.