Big Bill Broonzy's guitar made ripples on both sides of the Atlantic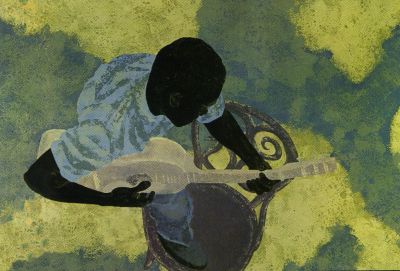 Big Bill Broonzy
Big Bill Broonzy
was one of the most important Chicago blues singers whose songs would inspire, among many others, Muddy Waters, The Rolling Stones,
Eric Clapton
 and would feature at the inauguration ceremony of Barack Obama.
One of Broonzy's iconic anti-racism songs Black, Brown, and White, refused by all record labels and thus never released as a studio record, was sung in the years even before the civil rights movement attained its critical mass.
Born Lee Conley Bradley, he was one of the seventeen children of Frank Broonzy (Bradley) and Mittie Belcher. The date and place of his birth are disputed. Broonzy claimed he was born in 1893, but family records discovered after his death suggest that the year was 1903. 
He began playing music at an early age when he made a fiddle from a cigar box and later learned how to play spirituals and folk songs from his uncle. With his friend, who played a homemade guitar, Broonzy started performing at social and church functions.
Broonzy's family in Arkansas
: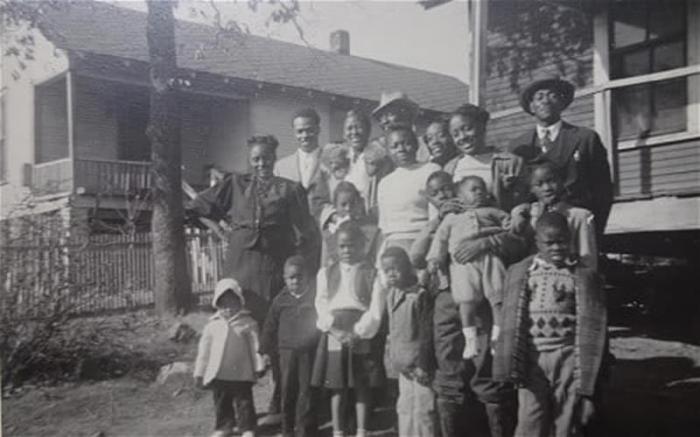 In 1917, he was sent overseas to fight in World War I, and, due to the lengthy demobilization, returned home sometime in 1920. Like many other African-American vets, on his return, he found life in the South intolerable. So he left Arkansas for Chicago, joining the ever-increasing wave of black migration northward.
After arriving in Chicago, Broonzy switched from fiddle to guitar. Through the
1920s
he did a string of odd jobs, including Pullman porter, cook, and foundry worker to supplement his income, but his main interest always lay in music. He played regularly at rent parties and social gatherings, steadily improving his guitar skills. Broonzy's first record, released in 1927, was sold poorly and reviewers considered his style immature and derivative.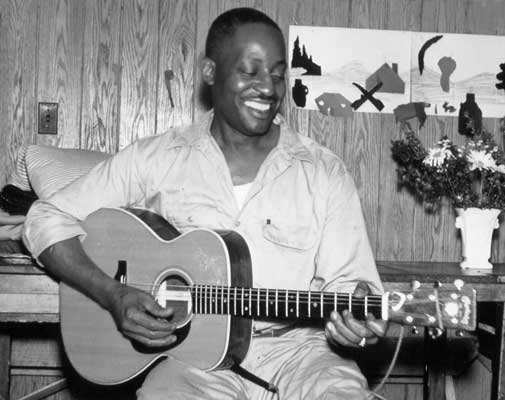 In the early
1930s
, Broonzy was still working at a grocery store since his record sales continued to underperform. Eventually, he decided to travel to New York City where he recorded for the RCA in 1932. These recordings sold better, and Broonzy was finally finding his audience. Back in Chicago, he started working regularly in South Side clubs with different pianists including Bob Call and Joshua Altheimer. 
Broonzy's reputation grew along with his singing that took on a more assured and personal vibe. Finally, at the end of the decade, he was asked to fill in for the recently deceased
Robert Johnson
at the concert at Carnegie Hall. 
During the
1940s
, Broonzy was showing a wider musical spectrum than almost any other blues singer before or since, including in his repertoire ragtime, jazz, folk, and spirituals. 
One of his best-known songs, Key to the Highway, was conceived during this time. His definitive protest song Black, Brown, and White became the core of his live repertoire, but for years no company would record it, citing probable poor selling numbers as the reason. Fortunately, the song was recorded nonetheless, for Mercury Records, under the title of Get Back but was not released until after his death.
Listen to Get Back:
It was in the
1950s
when Broonzy's blues went international. In 1951, with the help of the French jazz critic Hugues Panassie, Broonzy performed in Paris and then toured Europe, one of the first blues musicians to do so. The following year, he returned to Europe with pianist
Blind John Davis
. 
To meet the demands of his new audience, Broonzy had added more spirituals and traditional songs to his repertoire and had altered his style. His voice had roughened somewhat (perhaps from the disease) and his guitar technique gained a new type of sophistication. When asked to define folk music, he famously observed, as reported in Time:
"I guess all songs is folk songs, I never heard no horse sing 'em."
On this second European tour, Broonzy's performances were recorded and later issued on as the Amsterdam Live Concerts of 1953, in which his songs and introductory remarks frankly addressed racial problems. In Amsterdam, he met and fell in love with a Dutch woman, Pim van Isveldt, and together they had a son, Michael. 
Big Bill Broonzy and Pim van Isveldt
: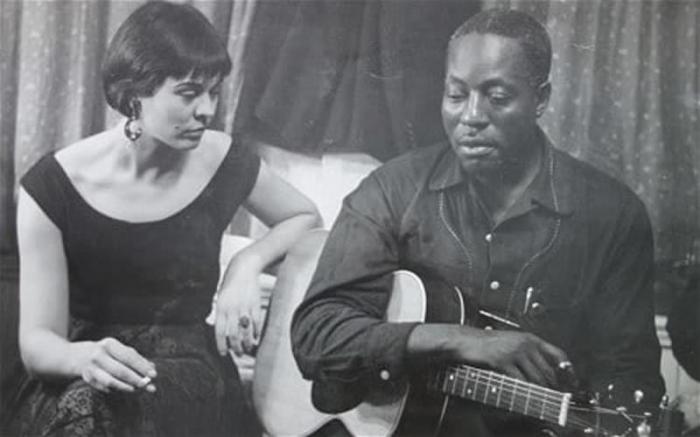 Broonzy made several more tours, performing in Europe, as well as in Africa, South America, and Australia. English audiences were especially appreciative. His recordings sold well and influenced many British musicians, including a youthful Keith Richards who stated:
"I saw him when I was about eight and he encapsulated everything I wanted to be: to sing, to play the guitar and to be black."
Watch the 1957 outdoor recording of Broonzy's Worried Man Blues, Hey, Hey and How You Want It Done:
Broonzy was actively performing in the Chicago area when he was diagnosed with throat cancer in 1957. Unable to use his voice in his final months, he continued to perform on the guitar. 
He died on August 15, 1958, in an ambulance on the way to a Chicago hospital. He had summed up his life and career in his autobiography published a few years earlier:
Don't say I'm a musician or a guitar player - just write Big Bill was a well-known blues singer and player and has recorded 260 blues songs from 1925 up till 1952; he was a happy man when he was drunk and playing with women; he was liked by all the blues singers.