Punky Reggae Party: song versions and lyrics inspiration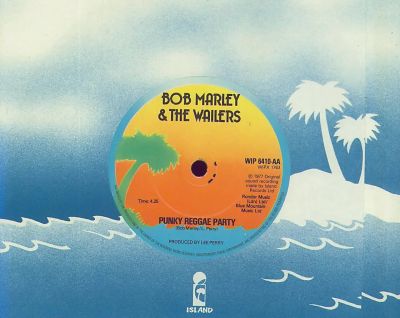 Punky Reggae Party single cover
Punky Reggae Party
 is a 1977 song by
Bob Marley
that exists in various versions ranging in duration from 4:25 to 9:19. All versions maintain the core identity until around the 4:15 mark encompassing the complete song narrative with its four verses and three choruses. The remaining segment of the piece is adorned with Marley's scat-singing abruptly truncated in the longest rendition without any discernible coda, hinting at an extended duration in the original mix.
Regarding the underlying meaning of the lyrics of
Punky Reggae Party
, Bob Marley penned this song as a positive response to the respectful reception of reggae by influential figures in the emerging punk rock and new wave genres. Notably, esteemed punk bassist
Jah Wobble
shared his experience of discovering reggae basslines in Marley's compositions and attending
Bob
 Marley and the Wailers
' London concerts. These interactions played a pivotal role in fueling his passion for music and solidifying his choice to pursue a career as a bass player. It comes as no surprise that Jah Wobble's punk band,
The Clash
, included a cover rendition of the reggae track
Police and Thieves
 by
Jamaican
artist
Junior Murvin
on their debut album.
Indeed, the lyrics of Punky Reggae Party are graced with memorable refrains such as "New wave, new phrase, new wave, new craze." Furthermore, the opening lines of the second chorus mention several punk rock and reggae bands:
I'm saying
The Wailers will be there
The Damned, The Jam, The Clash
Maytails will be there
Dr. Feelgood too
The track's production was overseen by
Lee 'Scratch' Perry
 and the recording unfolded in multiple phases across different countries. Initially, Bob Marley embarked on recording the song with Perry at London's Basing Street Studio, accompanied by accomplished musicians from renowned reggae bands
Aswad
and
Third World
. However, Perry felt that the results were overly polished prompting him to refine the arrangement in Jamaica with his house band
Upsetters
. Finally, Bob Marley contributed the concluding vocal pats at one of the Miami studios.
Listen to Punky Reggae Party (Jamaican 12" Version) by Bob Marley:
From a compositional standpoint,
Punky Reggae Party
 adheres to Western tonal theory and incorporates chord progressions that correspond to the Aeolian mode. The harmonic structure of the track is elegantly straightforward revolving around three chords within the key of B minor. The verses, refrains, and extended scat singing in the concluding section of the song revolve around a sole Bm tonic chord. This predictably shifts in the choruses featuring an alternating sequence of the Em dominant chord and the D
mediant
chord.
To explore further songs composed in the Aeolian minor mode and delve into their harmonic analyses, you can refer to the following articles: