Nature Sounds
Cantus Arcticus: bird calls arranged for orchestra by Einojuhani Rautavaara were taped in Northern Finland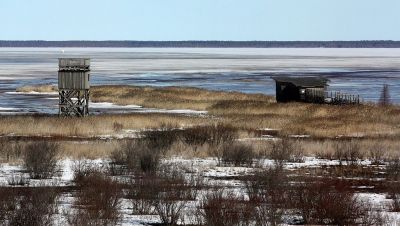 Birdwatching hideouts in Liminganlahti by Estormiz
Cantus Arcticus
is a three-part orchestral work created by the eminent Finnish composer
Einojuhani Rautavaara
with the use of samples of bird songs and bird calls that the composer himself tape-recorded near the Arctic Circle in the Province of Oulu. Rautavaara not only mixed
nature sounds
into his concert but also completed birds songs with orchestral instruments, giving
Cantus Arcticus
the choral form in which the bird choir performs a leading part.
After noticing musical harmony in bird sounds, Rautavaara continued the tradition established by musicians of different eras to use orchestral instruments for imitating bird voices in pastoral works. Many prominent composers discovered their famous musical motifs among bird trills. 
Researchers have been attempting to determine
whether the driving mechanism behind bird songs is tied to some form of conscious musicality or if it simply fits within the concept of basic communication.
Written in 1972, Cantus Arcticus can be relegated to Einojuhani Rautavaara's middle period that began when he decided to escape the avant-garde and serialism inherent to his early works by releasing a bulk of compositions in the spirit of neo-romanticism. Often referred to as a Concerto for Birds and Orchestra, the work was commissioned by the University of Oulu for its first doctoral degree ceremony.
The first movement, titled The Bog, opens with ornate passages of a flute pair which are soon joined by the buzz of marsh birds recorded during spring migration. The composer sequentially adds other woodwinds and strings as he gradually increases the loudness of the orchestra. After a few minutes, the saturated polyphonic structure suddenly changes to smooth melodic lines accompanied by individual bird calls.
Listen to Cantus Arcticus, The Bog performed by Leif Segerstam with Helsinki Philharmonic Orchestra:
In order to achieve the necessary mood for Melancholy—the second movement of Cantus Arcticus—Rautavaara slowed down the recording of a shore lark song by four times as a result of which the bird's voice dropped down by two octaves. Thus obtained "ghost bird" perfectly fits into chords performed by strings which smoothly transition into a bright ascending arpeggio toward the middle of the movement.
Listen to Cantus Arcticus, Melancholy performed by Leif Segerstam with Helsinki Philharmonic Orchestra:
In the third movement, Rautavaara sought to display a picture of migrating swans:
"I imagined they [the swans] fly straight to the burning sun."
Starting with the swan calls, the movement is supported by high violins accompanied by woodwinds that imitate bird sounds. Music becomes denser and louder; it now involves cellos, brass, and cymbals in order to come to a gradual close like a huge flock of birds that disappeared over the horizon.
Listen to Cantus Arcticus, Swans Migrating performed by Leif Segerstam with Helsinki Philharmonic Orchestra: