Comic 'Italienische Serenade' was the end of Hugo Wolf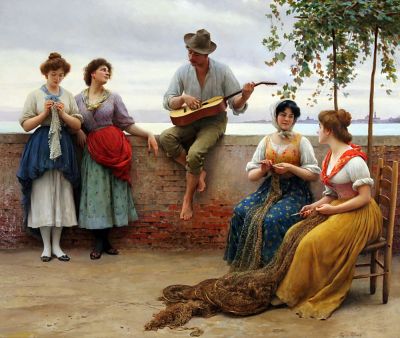 The Serenade by Eugene de Blaas
The inspiration for the Italian Serenade came to Hugo Wolf from the novella Leben eines Taugenichts by the German Romantic writer Joseph Eichendorff. Its protagonist is a young violinist who leaves his grumbling father and his country home in the pursuit of fortune. He is rather dubious character, charming some with his talent, and antagonizing others with his simplicity. 
The Serenade was composed for string quartet in a span of only three days, during the time of Wolf's great obsession with the writer and unhealthy determination to adopt more of Eichendorff's verses for voice and piano.
Wolf originally called the work simply Serenade in G major, but around 1890 began referring to it as his Italian Serenade. In 1892, he returned to the piece and orchestrated it with the intention of adding two more movements to create a suite for concert performance. The following year he made sketches for a slow movement in G minor, but, already suffering from syphilis that aggravated the emotional turmoil brought on by his impulsive personality, he would never bring it to completion. In 1897, after prolonged suffering, he was confined to an asylum.
It is reasonable to suggest that Wolf created a new genre of 'comic' serenades with this work, and most critics agree that the original string quartet version is superior to the later revision for string orchestra. 
Here is the 1968 performance by the Orchestra RAI di Roma: