Firth of Fifth: impressionistic Genesis song as a prog-rock masterpiece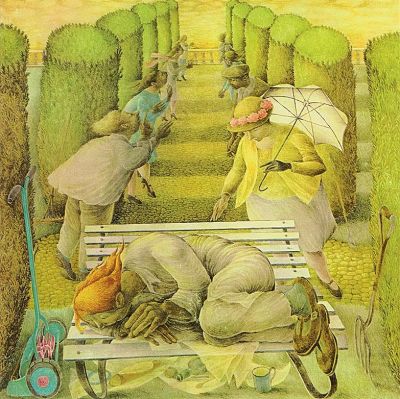 The Dream by Betty Swanwick as LP cover for Selling England by the Pound
Firth of Fifth
is a ten-minute track released by
Genesis
on the 1973 album
Selling England by the Pound
and is recognized as one of the best examples of progressive rock by critics and fans alike. The song's concept has been in the works for several years, conceived by the band's classically-trained keyboardist
Tony Banks
, although the track is credited to the entire band.
The compositional structure of
Firth of Fifth
is complex yet euphonious, equating it to the masterpieces of classical impressionism and betraying Tony Banks' passion for
Maurice Ravel
's piano music.
The true highlight of the song is undoubtedly its instrumental parts based on bold chord progressions professing chromatism and hardly correlating with tonal theory. In addition to intricate chord chains, the time signature that switches between 13/8 and 15/8 in the intro and middle solo sections is also complex and unusual. Using such avant-garde compositional techniques as their background,
Peter Gabriel
's flute solo and the subsequent solo guitar part by
Steve Hackett
hold a surprisingly calm and peaceful air.
Listen to Firth Of Fifth by Genesis:
Chord sequences and time signatures are naturally simplified to facilitate vocal performance. The principles of the tonal theory are already clearly traced here, although the progression itself still cannot be called simple due to the implementation of not quite obvious modulations and the use of diminished chords.
Curiously, the song title is a wordplay in reference to the Firth of Forth—a common name for the estuary of the River Forth in Scotland. The abstract and symbolic song lyrics have been reportedly written by Tony Banks in collaboration with guitarist
Mike Rutherford
and have been the subject of much controversy.