Gauhar Jaan: India's first-ever recorded musician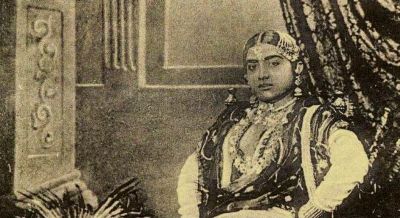 Gauhar Jaan
Piece of Music:
Raag Jogiya
The first-ever recording of
Indian music
was made by Fred Gaisberg, an American musician and engineer traveling around the world in search of talented performers to record them on the newly invented gramophone. Many of these early recordings made by him became a real sensation, revealing to the world such stars as
Enrico Caruso
and Feodor Chaliapin.
On November 2, 1902, Fred Gaisberg began the historical recording of Indian music in Calcutta which resulted in about 500 matrices over 6 weeks. In fact, the first recording in this session was the classic khayal in Raag Jogiya performed by Gauhar Jaan, an Indian singer of Armenian descent.
Gauhar Jaan was born as Angelina Yeoward in 1873 in Azamgarh, now in the Uttar Pradesh state of India. Her father William Robert Yeoward was an Armenian who probably had dropped the typical Armenian surname ending "jan" from his surname and her mother Victoria Hemmings was Indian by birth. 
Since her parents divorced when Gauhar Jaan was only six years old, she grew up under the influence of her mother who was a skilled dancer and a classical singer. In 1883, mother and daughter appeared in Calcutta where Gauhar Jaan received an excellent education in classical Hindustani vocal music under the guidance of legendary performers of the time.
Listen to India's first-ever recorded song Raga Jogia performed by Gauhar Jaan:
Gauhar Jaan has found fame beyond the music scene of Calcutta after her recordings had spread throughout India a year after the historic recording session. She gave concerts in major cultural venues in India such as the Victoria Public Hall in Madras and was invited to perform at the coronation of King George V at Delhi Durbar.
The play Gauhar Jaan - The Datia Incident at the Omnibus Theatre
:
During her career, Gauhar Jaan has recorded around 600 songs in more than 10 languages ​​including Bengali, Urdu, Gujarati, Tamil, Marathi, Arabic, Persian, Pushto, French, and English.
Gauhar Jaan spent her last years in Mysore where she was appointed as a Palace musician. She died in 1930.