Krithi lyrics in Tyagaraja's songs defined South Indian classic tradition of the 18th century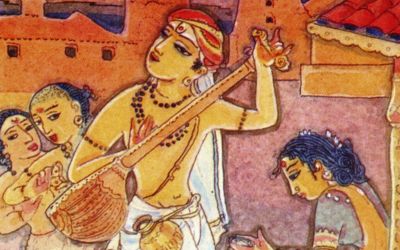 Saint Tyagaraja by Vidya Shankar
Tyagaraja
was a South Indian poet, musician, and composer whose devotional and philosophical songs—written mainly in Telugu—had a tremendous influence on the establishment of the new musical forms of the Carnatic tradition. Together with his equally influential contemporaries Shyama Shastri and
Muthuswami Dikshitar
, Tyagaraja is included in a group often referred to as the
Trinity of Carnatic music
that worked on creating the rich melodic aesthetics of South Indian culture in the 18th century.
Thematically, the lyrics of Tyagaraja often contain an appeal to his deity of worship, while in his other poems he applies varying narrative forms to impart his personal musings or give advice to his listeners. In addition to a number of devotional krithi-songs praising the gods Krishna, Shiva, Ganesh, Saraswati, and Hanuman, the composer wrote two musical plays, one of which is an adaptation of a religious story from the Bhagavata Purana, and the other an opera that features a libretto written by Tyagaraja himself.
Kakarla Tyagabrahmam
was born in 1767 in the city of Tiruvarur and received the name Tyāgarāja in honor of the presiding deity of the local temple. It is reported that the composer received his primary education in art from both his grandfather, who was a poet and vocalist, and his grandmother, a brilliant performer on the
veena
—perhaps the most important classical instrument in South India.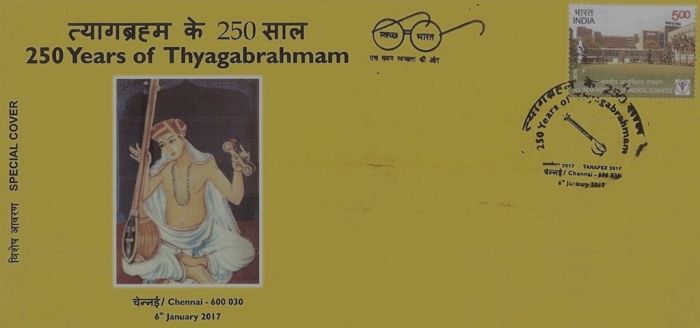 Having discovered Tyagaraja's excellent musical talent, his father encouraged him to pursue further education under the famous court singer Sonti Venkata Ramanayya whose musical power, according to the legend, was such that even dead tree stumps would begin sprouting fresh shoots upon hearing him.
As early as his teenage years, Tyagaraja wrote his first kriti-songs that so impressed the king of Thanjavur that he immediately invited the young singer to his service which Tyagaraja rejected and composed the song titled Does wealth bring happiness? (Nidhi Chala Sukhama) in response.
Listen to the instrumental version of Tyagaraja's Nidhi Chala Sukhama performed by Sheik Chinna Moulana on the nadaswaram:
Once and for all renouncing the delights of the court service, Tyagaraja immersed himself in his devotion to Rama and led a spartan way of life. Being an unusually fruitful composer, he did not particularly care about the systematization of his output as a result of which only several hundred of his works were preserved out of the alleged many thousand songs written by him.
Listen to Namo Namo Raghavayya—the first song written by Tyagaraja and performed here by Matunga Sisters:
Tyagaraja spent his whole life in his hometown Thiruvarur only occasionally making pilgrimages to holy places of southern India such as Tirumala and Kanchipuram. He died in 1847 at the age of 79 and was buried on the banks of the Kaveri river that flows through the city to this day.