The many attempts of Romantic composers to adapt Shakuntala love story from Mahabharata epic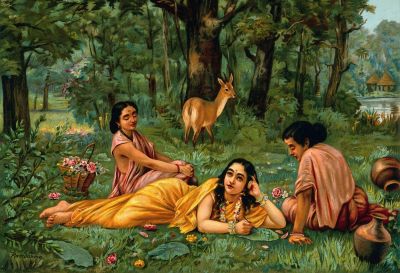 Shakuntala Patralekhan by Raja Ravi Varma
Composer:
Franz Schubert, Karl Goldmark
The love story of Shakuntala is first mentioned in the oldest Sanskrit epic of the Mahābhārata which could be traced back to the 4th century BCE. Being the most important source of philosophical and devotional materials of Indian culture, the Mahābhārata has always influenced poets and writers to create genuine masterpieces based on its memorable characters.
One of the first writers to dramatize the Hindu legend of Shakuntala was the classic Sanskrit author
Kālidāsa
who worked around the 4th century CE. Since his version was translated into English by Sir William Jones and published in Europe under the name
Sacontalá or The Fatal Ring
in 1790, the play has been an object of inspiration for many Western writers including Friedrich Schlegel and
Johann Wolfgang von Goethe
.
Naturally, the leading playwrights of the time paid close attention to Shakuntala which spawned attempts by many composers of the
Romantic era
to create operas and ballets based on this tale as old as time. Composers such as Leopold Schefer,
Franz Schubert
, Václav Tomášek, Karl von Perfall, Ernest Reyer,
Karl Goldmark
, Sigismund Bachrich, Felix Weingartner, Felix Woyrsch, and Ignacy Jan Paderewski started writing music for Shakuntala, but many of them could not complete their works, or the entire scores have been lost.
Shakuntala is the name of a girl who was found as a baby in a forest, surrounded by Shakunta birds, and was named appropriately, since Shakuntala means Shakunta-protected in Sanskrit. Years later, as a young woman, Shakuntala met King Dushyanta who was hunting deer with his party in the same forest. Shakuntala and King Dushyanta fell in love and entered into marriage, but they had to temporarily part for the Кing was following his mission. Leaving his personal royal ring as a sign of his swift return, Dushyanta left and was gone for quite a long time, forcing Shakuntala to worry about the fate of their son who was born during the absence of the King.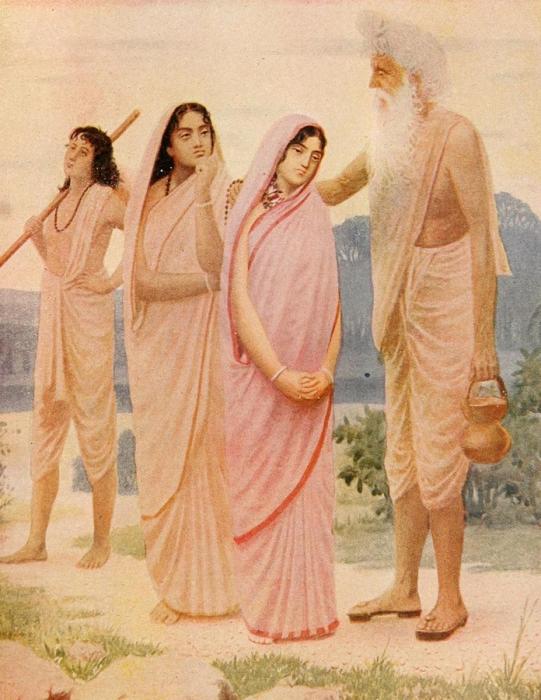 Deeply troubled, Shakuntala accidentally allowed a disrespectful treatment to take place of one of the powerful rishi-sages who visited her house. The enraged rishi cursed Shakuntala, stating that the person she was waiting for would completely forget about her. Then, realizing that his extreme anger was not justified, the rishi softened his spell, saying that the person who had forgotten Shakuntala would remember everything again if she showed him the ring.
Wanting to speed things up, Shakuntala, accompanied by friends, set off on a long journey to the King's palace. During the crossing of the river in a canoe, the ring slipped off her finger without her realizing it, and so, upon her arrival at the King's palace, she faced the devastation of her husband not being able to remember her.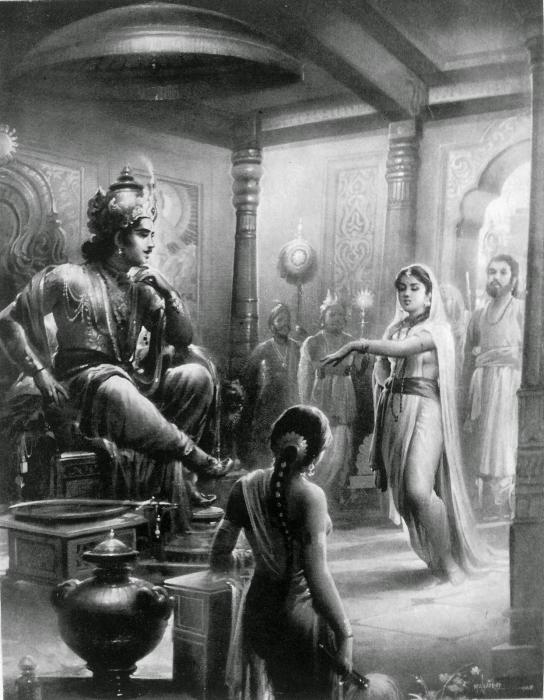 Back home, heartbroken Shakuntala decided to leave the people and settle in a wild part of the very same forest where she had been found. There, surrounded by animals, her son spent his formative years and grew to be an unusually strong man.
Fortunately for all the characters in the story, the ring, found inside a fish belly by a fisherman, was delivered to the palace and thereby awakening Dushyanta's memory. The King immediately went in search of his beloved. Entering the forest, he saw a young man had pried open the mouth of a lion and was busy counting its teeth. The young man said that his name was Bharata, the son of King Dushyanta, and agreed to introduce the guest to his mother, leading to the happy ending of this famous Hindu legend.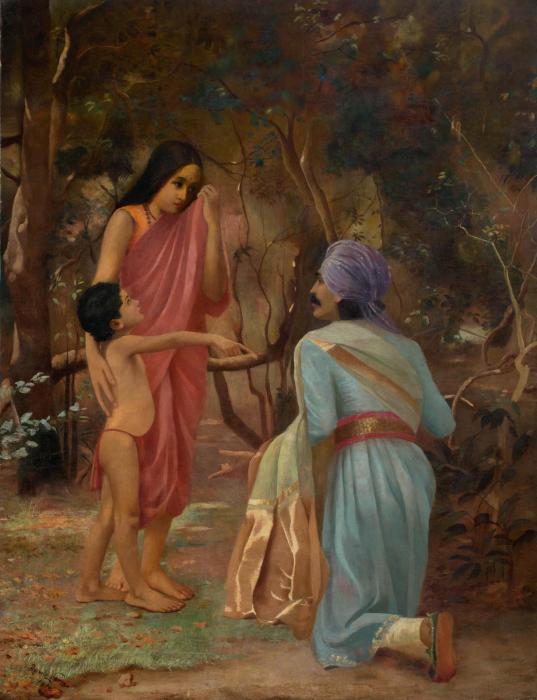 Given the well-developed plot of Shakuntala, it is not surprising that the experienced operatic composer
Antonio Salieri
stimulated his students Leopold Schefer and Franz Schubert to write their versions based on this Hindu theme. Both students of Salieri did not finish their work on that topic, though Schubert's drafts were finalized in modern times, and there are two versions of Sakuntala completed by Fritz Racek and
Karl Aage Rasmussen
.
Listen to Karl Aage Rasmussen's completion of Franz Schubert's Sakuntala Overture performed by Frieder Bernius with German Chamber Philharmonic Orchestra:
One of the other charming overtures of the legend of Shakuntala was written by Hungarian-Austrian composer Karl Goldmark in 1865. This overture is considered to be one of the most striking expressions of his talent in orchestral music.
Listen to Karl Goldmark's Sakuntala Overture performed by András Korodi with Budapest Philharmonic Orchestra:
The world-famous legend of Shakuntala naturally gathers immense crowds in India during various kinds of dance stage performances and continues to motivate renowned directors to produce numerous remakes of the oldest known love story.
Listen to Biraje Ki Saje from Bhupen Hazarika's 1961 film Shakuntala: