'Mysterious Mountain' creator was not thrilled with its popularity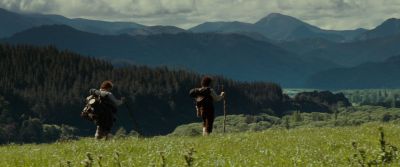 The Fellowship of the Ring
American composer Alan Hovhaness is perhaps most known for his work Mysterious Mountain, or Symphony No.2, which proved its endurance by having remained in the repertoire of many major orchestras for over half a century.
Its premiere, broadcast nationwide on NBC radio in October 1955, was an outstanding success for Hovhaness and conductor Leopold Stokowski who had commissioned the piece.
According to the composer, this short symphony's title does not refer to any specific mountain, instead alluding to "the whole idea of mountains". Curiously, as with many of his evocative titles, Mysterious Mountain got its name only after the music was complete. Even if his naming system appears to be more random than planned, this title seems rather apt, as the symphony's crescendos and giant melodic arcs certainly work as musical metaphors for mountain slopes against the backdrop of vast skies.
In spite of Mysterious Mountain's success, Hovhaness did not consider it a particularly representative work:
"As to my Mysterious Mountain my feelings are mixed — I am happy it is popular but I have written much better music and it is a very impersonal work, in which I omit my deeper searching."
This bitterness comes from a place many artists that are viewed as "one-hit wonders" share, one way or another. After all, Hovhaness' other works remained rarely performed, if at all.
He also claimed he had difficulty even listening to the work, because of a particular passage:
"I remember hearing celestial ballet in my head as I lay down to rest from writing the work. Later I transcribed what I heard in my sleep. After I wrote it, then heard it again in my sleep, certain versions were wrong. So I corrected it. Now I cannot bear to hear it (...) it's just certain parts move me. I go out of the hall whenever the piece is performed."
Listen to Mysterious Mountain performed by John Williams with London Symphony Orchestra: