Abdelazer: Purcell's suite for the failed play gained popularity thanks to Britten's arrangement for children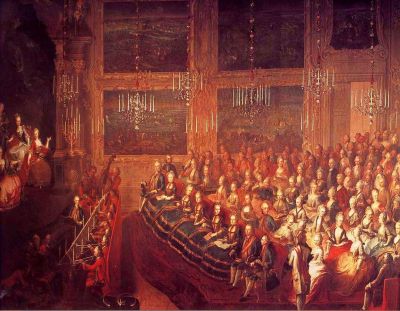 Abdelazer, or The Moor's Revenge, is a 1676 play by Aphra Behn who is considered to be one of the first known English women to earn her living by writing. The only tragedy that Behn had ever written, Abdelazer was also an adaptation of an earlier play Lusts' Dominion by an unknown author.
In 1695,
Henry Purcell
wrote incidental music for the 
Abdelazer 
revival at the new theater in Lincoln's Inn Fields where the play would not gain much success which would become evident by the meager second-day attendance.
In some ways, incidental theatre music of the late 17th century was used in a similar fashion the film music is used today—to set various moods for different parts of the story. It was a genre Purcell turned to only during the last five years of his life, most likely due to a decrease in demand for court music at that time.
Abdelazer suite is written in 10 movements of which Rondo is currently the most famous due to the use of the piece and its variations in films, including the 2005 BAFTA-winning adaptation of Pride and Prejudice in which Purcell's piece can be heard as dancing music at the Netherfield ball.
Listen to Rondo from Purcell's Abdelazar performed by Neville Marriner with Academy of St. Martin in the Fields:
As the name implies, this piece, composed in a musical form of rondo, employs the main melody in a series of alternating episodes. It adheres to the AABACA structure, where A is the main melody, B is the first episode, and C is the second episode.
In 1945,
Benjamin Britten
composed his
The Young Person's Guide to the Orchestra
based on Purcell's
Abdelazer Rondeau
. The piece, subtitled as 
Variations and Fugue on a Theme of Purcell,
was originally commissioned for the British educational documentary film called
Instruments of the Orchestra
as a way of illustrating the tone colours and capacities of the various sections of the orchestra.
Having become one of Britten's most famous compositions,
The Young Person's Guide to the Orchestra
is often associated with two other works in the context of children's music education:
Saint-Saëns
'
The Carnival of the Animals
and Prokofiev's
Peter and the Wolf
.
Listen to Britten's The Young Person's Guide to the Orchestra performed by London Symphony Orchestra:
Britten's arrangement of Purcell's
Abdelazer
was used as a recurrent motif in the 2012 coming-of-age film
Moonrise Kingdom
directed by
Wes Anderson
and starring Bruce Willis, Edward Norton, Bill Murray, Frances McDormand, and
Tilda Swinton
.