Ravel's La Valse and the duel that wasn't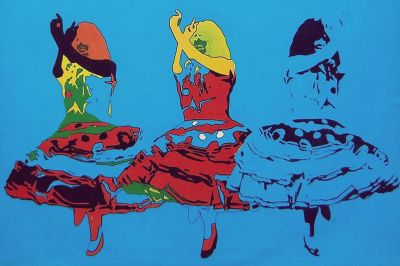 Maurice Ravel LP cover
Completed by
Maurice Ravel
in 1920,
La Valse
stands as a remarkable composition distinguished by its innovative waltz structure. Ravel's intention was to pay homage to the waltz using music as a medium to portray the birth, decay, and eventual destruction of this beloved genre. The piece's one-movement design intricately weaves together a series of waltzes, skillfully alternating between moments of resounding intensity and delicate tranquility.
The genesis of
La Valse
can be traced back to Ravel's profound fascination with the Viennese waltz tradition and his desire to honor the legacy of
Johann Strauss II
. Additionally, Ravel drew inspiration from
Emmanuel Chabrier
's opera
Le roi malgré lui
which contained a waltz.
Valses nobles et sentimentales
—Ravel's earlier work—served as a precursor to
La Valse
 as it introduced a motif that would later find its place within the fabric of this grand composition.
In 2022, La Valse claimed the prestigious title of the most frequently performed work in the classical music realm surpassing even Beethoven's renowned symphonies. This exceptional achievement can be attributed to a resurgence of interest in Ravel's musical repertoire, bolstered by comprehensive publications of his writings and an impeccably curated edition of La Valse itself. Furthermore, the composition's adaptability to evolving concert formats, its irresistible allure for symphony orchestras, and its inherent appeal to virtuoso pianists have solidified its prominent position in concert programming.
Curiously,
La Valse
underwent a remarkable transformation from its original conception as a ballet to its eventual manifestation as a concert work, all due to Ravel's tumultuous fallout with Serge Diaghilev—a notable Russian art critic and ballet impresario. Following a performance of a two-piano reduction by Ravel and
Marcelle Meyer
, Diaghilev acknowledged the brilliance of the composition labeling it a "masterpiece." However, he ultimately dismissed it as "not a ballet but a portrait of ballet." Ravel, deeply hurt by this comment, decided to end his relationship with Diaghilev.
La Valse
gained popularity as a concert work, and when Ravel and Diaghilev crossed paths again, Ravel refused to shake Diaghilev's hand. In response, Diaghilev challenged Ravel to a duel, but fortunately, friends intervened and convinced Diaghilev to retract the challenge.