Savoy Truffle: cautionary song about chocolate by the quiet Beatle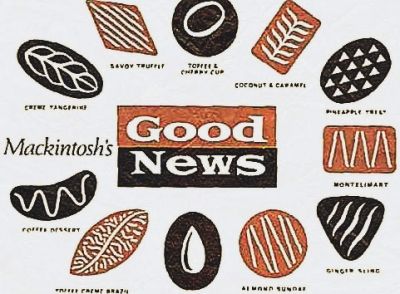 Savoy Truffle is one of four songs written by George Harrison for the 1968 album The Beatles, also known as the White Album. When writing the lyrics, Harrison decided to use a new method of composition to move away from his usual practice of incepting a certain message into the songs for which he was nicknamed "Mystical Beatle George".
Impressed by John Lennon's abstract poetry, Harrison lifted most of the
Savoy Truffle
lyrics from a chocolate box brought by his friend
Eric Clapton
on one of his visits. The song was supposed to be a sort of a demotivator for Clapton who'd been warned by his dentist about the dangers of sweets.
The song opens with the words "creme tangerine and Montélimar," the original flavours printed on the inside lid of Mackintosh's Good News chocolate box which title closes the first stanza with the wordplay "yes, you know it's 'good news'". To add some impressionism and rhyme, Harrison provided the lyrics with his own invented terms such as cherry cream, coconut fudge, and pineapple heart.
Each verse is crowned with the ominous refrain "You'll have to have them all pulled out after the Savoy Truffle" implying disastrous tooth loss caused by eating Savoy Truffle candy, which, according to Harrison, was the sweetest in this chocolate box. The distorted section of six saxophones as well as the fierce guitar solo, slightly resembling the work of a dentist drill, organically complements the song.
Listen to Savoy Truffle by The Beatles:
There is speculation that Harrison quotes Paul McCartney's song Ob-La-Di, Ob-La-Da, pronouncing its title incorrectly on purpose the fact of which isn't completely unbelievable since the other members were not thrilled with this track as they stated openly, fueling rumors of growing contradictions within the band. There is a belief that Harrison, known as the quiet Beatle, invited Eric Clapton to perform an iconic guitar solo on the track While My Guitar Gently Weeps in order to somehow reduce the tension among band members during recording sessions of the White Album.