Shosholoza: meaning and origin of the famous African work song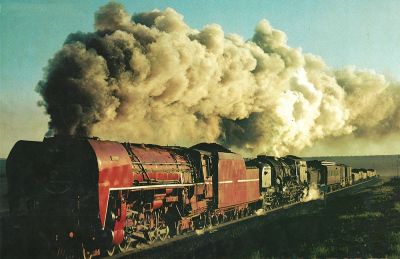 Steam in Africa by Guenter Haslbeck and David Wardale
With its origins going back to the gold mines of
South Africa
, 
Shosholoza
holds a firm place in the cultural consciousness having gone through the transformation from a
work song
 to a kind of a solidarity anthem in the African South that is commonly chanted during public actions and sporting events.
The song is believed to have been originally composed by workers from Rhodesia, now
Zimbabwe
 while traveling by steam trains to and from the mines. This certainly explains how the railway theme finds its place in the song in the form of an 
onomatopoeia,
in this case the word 'shosholoza' which imitates the sound of a working steam train, though the word can also can be understood as 'go forward'.
Earlier versions of Shosholoza featured lyrics in the Zulu and Ndebele languages that could be translated to, "Go forward from those mountains on the train from South Africa" though the country of departure could be replaced depending on the situation. The train's direction could also be reversed in different verses, "You are running away from those mountains on the train from Rhodesia." As the song spread, its lyrics involved more and more languages and its meaning was adapted for each specific background.
Like most work songs, Shosholoza is performed in a call-and-response manner that allows for synchronization necessary for collective manual labor. The fact that the song helps endure monotonous and routine work was mentioned by Nelson Mandela, who, during his nineteen years of imprisonment on Robben Island, sang the chant with other prisoners during hard work. Significantly, he viewed the train as an allegory of the growing movement against racial segregation and described Shosholoza as "a song that compares the apartheid struggle to the motion of an oncoming train".
Shosholoza 
is well known in the West as it has been featured on soundtracks and recorded by famous pop artists such as Pete Seeger and
Peter Gabriel
.