Suite bergamasque: did Debussy record his best-known piano piece?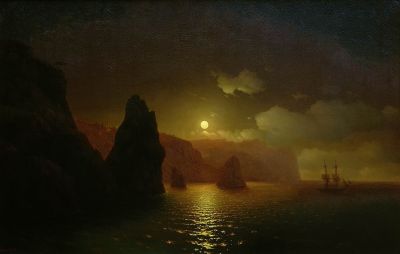 Cape Fiolent by Ivan Aivazovsky
Suite bergamasque
is one of the best-known piano works of the French impressionist
Claude Debussy
 written in 1890 and published fifteen years later. Such a delay was caused by Debussy's fears of the suite failing to fully agree with his mature style but his publisher expressed confidence in the success of this work, and the composer eventually conceded.
Given the suite's title, it would only be natural to link the piece to the Italian dance style
bergamasks,
but the work is likely inspired by
Paul Verlaine
's poem
Clair de lune
 that merely mentions the dance. The poem also gave its name to the third movement of the suite which undoubtedly ranks among the most popular classical pieces due to its heavy use in
films
.
Even though Debussy's creative period ended before the recording industry could gain momentum, an impression of his performing skills can be obtained from the recordings he made for the
reproducing piano
—a very complex pneumatic device for reading perforated piano rolls designed to reproduce most nuanced compositions adequately, even interpreting the strength and duration of keystrokes.
In the 2010s, several compilations of piano music were released from the extensive collection of piano rolls assembled by Australian enthusiast
Denis Condon
 including about a dozen pieces played by Debussy. It should be noted that some of these impressions contain erroneous information about the music performer. In fact, several of Debussy's piano rolls attributed to his hand, including
Claire De Lune
, are actually played by his contemporaries.
Listen to
Claire De Lune (Moonlight)
from 
Suite Bergamasque
performed by
Suzanne Godenne
:
Currently, only one piano roll can be indisputably attributed to Debussy. The roll contains fourteen of his pieces for the Welte-Mignon reproducing piano, and Clair de lune is not listed in the company's catalog. In 1913, Debussy expressed his satisfaction with this recording in a letter to inventor Edwin Welte:
"It is impossible to achieve greater perfection in reproduction than with the Welte apparatus. What I have heard has amazed me, and I am happy to affirm this in these few lines."