Gymnopédies: the ambient genre predicted by piano gems of late Romanticism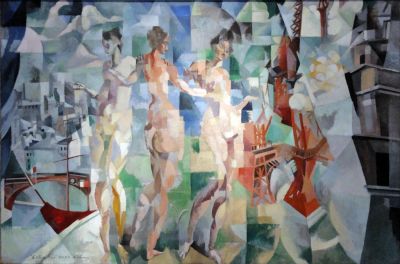 The City of Paris by Robert Delaunay
The term
ambient music
was introduced in the
1970s
by the famous English experimenter
Brian Eno
who used newly invented electronic instruments to create music that can be "actively listened to with attention or as easily ignored, depending on the choice of the listener". 
Even though there have been early skirting around the concept of ambient as far back as the
1960s
when many bands experimented with unusual composition methods for acoustic and electric instruments, it was Brian Eno's 1978
Ambient 1: Music for Airports
that became a starting point of the ambient
genre
 as a whole.
Eno himself has repeatedly stated that he is not the author of the genre as such but only came up with a proper term for the musical trend which principles were defined during the
Romantic era
by French pianist
Erik Satie
.
Erik Satie Near the Moulin de la Galette in Montmartre by Ramon Casas
: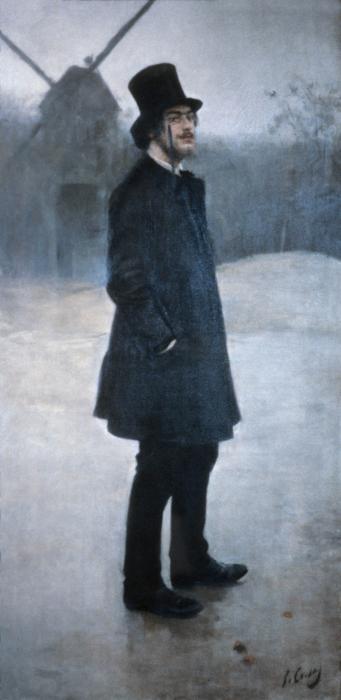 The creative period of Erik Satie coincided with the great search for new forms of musical expression by many composers which eventually prepared the soil for the first fruits of impressionism and modernism. Unlike
Claude Debussy
and his other prominent contemporaries, Satie's revolutionary idea was not to capture the listener's attention through intriguing harmonic and melodic configurations, but rather to create a relaxing atmosphere for a pleasant pastime accompanied by a conversation.
The composer himself called this sort of background style the furniture music, describing it as:
"[an effort to create] a music...which will be part of the noises of the environment, will take them into consideration. I think of it as melodious, softening the noises of the knives and forks at dinner, not dominating them, not imposing itself. It would fill up those heavy silences that sometime fall between friends dining together. It would spare them the trouble of paying attention to their own banal remarks. And at the same time it would neutralize the street noises which so indiscreetly enter into the play of conversation."
The basis of the genre that has gained millions of followers since its inception was formed by several early Satie's works including three short piano pieces Gymnopédies published between 1888 and 1895.
Listen to Erik Satie's Gymnopédie No.1 performed by Daniel Varsano:
At present, musicologists are hesitant to name the exact origin of the title for these soft piano works, citing as possible sources for this term the novel Salammbô by Gustave Flaubert, the poem Les Antiques by J. P. Contamine de Latour, and the odd Spartan war dance with naked warriors that was similarly called Gymnopaedia.
Listen to Erik Satie's Gymnopédie No.3 performed by Reinbert de Leeuw:
Having released the first and third Gymnopédies in 1888, Erik Satie published the second piece of the cycle seven years later, but neither these nor his other works could support the composer's financial situation, and his popularity was gradually fading with the approach of the end of the century.
Listen to Erik Satie's Gymnopédie No.2 performed by Daniel Varsano:
These three piano pieces by Erik Satie subsequently received many orchestrations, were performed by popular artists of various genres and also used in soundtracks for numerous movies and television shows. The first orchestral adaptation of Gymnopédies was made by Satie's close impressionist friend Debussy, who, expressing the conviction that the second piece could not be orchestrated, arranged only the first and third parts in 1897.
It should be noted that in his adaptation, Debussy reversed the numbering of Gymnopédies: Satie's first became Debussy's third, and vice versa.
Listen to Claude Debussy's orchestration of Gymnopédie No.3 performed by Leonard Slatkin with Saint Louis Symphony Orchestra:
Among the sources of inspiration for the soothing musical atmosphere of Gymnopédies is also the work of French mural painter Pierre Puvis de Chavannes whose Jeunes filles au bord de la mer is said to have been Erik Satie's favorite canvas.
Young Girls by the Seaside
 by Pierre Puvis de Chavannes: