UEFA Champions League theme is an adaption of George Händel's royal coronation anthem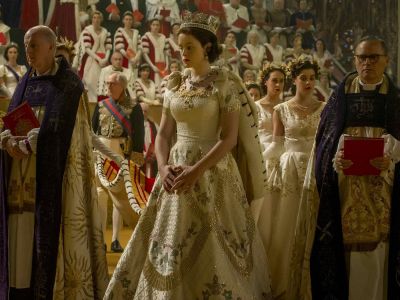 Claire Foy as Queen Elizabeth II
Composer:
George Händel, Tony Britten
One of George Händel's best-known pieces, Zadok the Priest, has been traditionally performed during the anointing of the sovereign at the coronation of every British monarch.
Initially written for the coronation of King George II in 1727, it has since become recognized as a British patriotic anthem.
The lyrics are based on the biblical account of the anointing of King Solomon:
And all the people rejoiced, and said:
God save the King! Long live the King!
May the King live for ever,
Amen, Alleluia.
Before Zadok the Priest became a ceremonial standard, these words had been recited from the Bible during every British coronation since that of King Edgar in 973.
A delightful performance of Zadok the Priest by the Choir of Westminster Abbey:
In 1991, UEFA began the quest of re-branding the European Cup, which included commissioning an anthem for the Champions League, as well as designing the now iconic 'starball' logo.
The anthem, written by the English composer Tony Britten, was based and developed on the leitmotif of Händel's Zadok the Priest. Britten explained his classical choice:
"Hooliganism was a major, major problem and UEFA wanted to take the game into a completely different area altogether. <...> They approached me to write something anthemic and because it was just after The Three Tenors at the World Cup in Italy so classical music was all the rage. There's a rising string phase which I pinched from Handel and then I wrote my own tune. It has a kind of Handelian feel to it but I like to think it's not a total rip-off."
Watch 2CELLOS performing Champions League Anthem at the 2018 UEFA Champions League Final in Kyiv:
The lyrics mix the three official languages of UEFA: English, French, and German.
Here is another less serious but nonetheless touching performance by a youth orchestra and choir from Brazil: