Classical Guitar
William Walton forgot that his only guitar work was written for guitar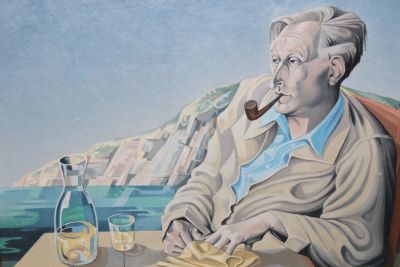 Sir William Walton by Fred Aris
Great guitarist Julian Bream commissioned music from a number of composers to contribute to the creation of the modern repertoire for classical guitar players who, up until then, had mostly relied on rather dated standards from the 19th century.
Composer William Walton was one of these selected few whom Bream asked to write a piece for solo guitar, to which Walton had expressed some uncertainty at first.
As Walton noted:
"...never having thought of writing for the solo guitar I asked Julian for a fingerboard chart, which would explain what the guitar could do. I managed to write some rather pretty pieces for him except that the first six notes of the first piece all need to be played on the open strings. So when he begins to play, the audience will probably think he's tuning the bloody thing up!"
Once the initial hesitation had passed, Walton was finally able to produce the piece titled Five Bagatelles which gradually gained great popularity amid guitarists.
Walton then decided to dedicate the work to the English composer Sir Malcolm Arnold 'with admiration and affection for his 50th birthday,' premiering it in 1972 with Julian Bream as the solo guitar. Completely taken by the piece, Walton later adapted Bagatelles for orchestra, going as far as renaming the suite Varii Capriccii, to celebrate the 25th anniversary of the opening of the Royal Festival Hall.
Years later, during a friendly visit, Bream played Bagatelles to Walton and was surprised to learn that the composer had completely forgotten of the origins of his own work, having gotten used to his symphonic version a little too much.
This very ironic revelation can be seen at the end of the video: