Capriol Suite: early dances arranged for modern orchestra by Peter Warlock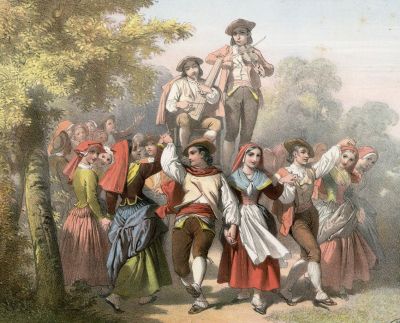 Branle d'Ossau by Alfred Dartiguenave
The
Capriol Suite
is one of the most popular works by the 20th century English composer Philip Arnold Heseltine who often used the moniker of Peter Warlock to reflect his deep interest in early music and occult practices. The suite, written in six movements, is based on typical court and folk
dances
that were widespread in Europe during the
Renaissance
and
Baroque
eras.
In his suite, Heseltine developed and orchestrated some of the themes originally laid out in the 1588 Orchésographie book on dance written by a canon of the French cathedral at Langres, Jehan Tabourot, who had published his volume under the pseudonym Thoinot Arbeau, unwilling to reveal his passion for such a secular entertainment as dance.
Each movement of the Capriol Suite is titled after a particular dance:
Basse-Danse, dance without jumps in moderate tempo, common at the courts of France and Italy since the 14th century.
Pavane, the dance of Italian origin that replaced the Basse-Danse and was ubiquitous in Europe for various ceremonial processions.
Tordion, a true French court dance originating in Burgundy as a faster form of Basse-Danse.
Bransles, the fast French folk dance known since at least the 13th century, performed at fairs and folk festivals and often accompanied by singing.
Pieds-en-l'air, an active dance whose name means feet in the air.
Mattachins, a very noisy sword dance imitating battle.
Curiously, at a Promenade Concert in August 1929, Heseltine himself conducted a performance of the Capriol Suite which would remain the single public conducting engagement of his life.