The alloy of melody and spoken word in the music of Reynaldo Hahn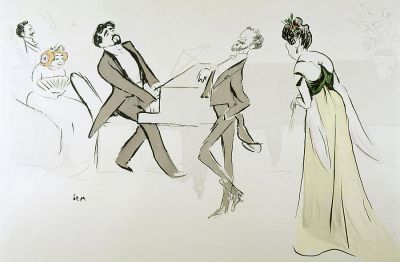 Reynaldo Hahn, Mr. Madrazzo, and Madeleine Lemaire
Reynaldo Hahn was a Venezuelan-born—later naturalized French—composer, pianist, and singer who wrote in the French classical tradition of the mélodie.
The youngest of twelve children, Hahn was born in 1874 in Caracas. His father was an affluent engineer, inventor, and businessman who knew the Venezuelan President Antonio Guzmán Blanco, but the increasingly volatile political atmosphere caused his father to retire and leave Venezuela.
The family moved to Paris when Hahn was three years old. The city and its cultural resources proved an ideal setting for the precocious Hahn. He made his debut at the salon of the eccentric Princess Mathilde (Napoleon's niece), accompanying himself on the piano as he sang arias by Jacques Offenbach.
At the age of eight, Hahn began composing his first songs. He entered the Paris Conservatoire at the age of eleven, studying solfège, harmony and counterpoint, composition and piano.
Listen to Hahn's song À Chloris arranged for Cor Anglais performed by Mathias Mönius and Academy of St. Martin in the Fields with Albrecht Mayer as soloist:
Early in his career, Hahn made the acquaintance of Marcel Proust who instilled in Hahn a deep appreciation and understanding of poetry, which had a profound effect on Hahn's approach to vocal composition. The romantic relationship which developed between them over many years remained strong until Proust's death in 1922.
In 1909, Hahn became a French citizen and in 1914, at the outbreak of World War I, he volunteered for service in the French Army and was accepted despite being older than the official conscription. Beginning his service as a private and eventually reaching the rank of corporal, Hahn spent a great deal of his time at the front composing a song cycle based on the poems by Robert Louis Stevenson.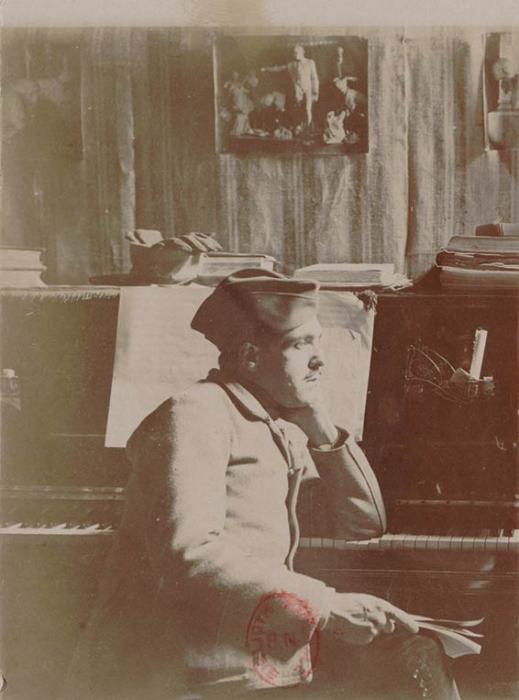 Hahn found himself seduced by the poetry of Victor Hugo, Théophile Gautier, and Paul Verlaine; he put his efforts toward creating musical phrasing that allowed the words to speak for themselves. He wrote: 
"The genuine beauty of singing consists in a perfect unison, an amalgam, a mysterious alloy of the singing and the speaking voice, or to put it better, the melody and the spoken word." 
Later in life, he rose to prominence as a conductor and as a particularly sensitive interpreter of Mozart, with whose music he felt a strong affinity. Hahn's musical tastes ranged from Palestrina through Haydn to Ravel, but strangely excluded Debussy, whose music he derided.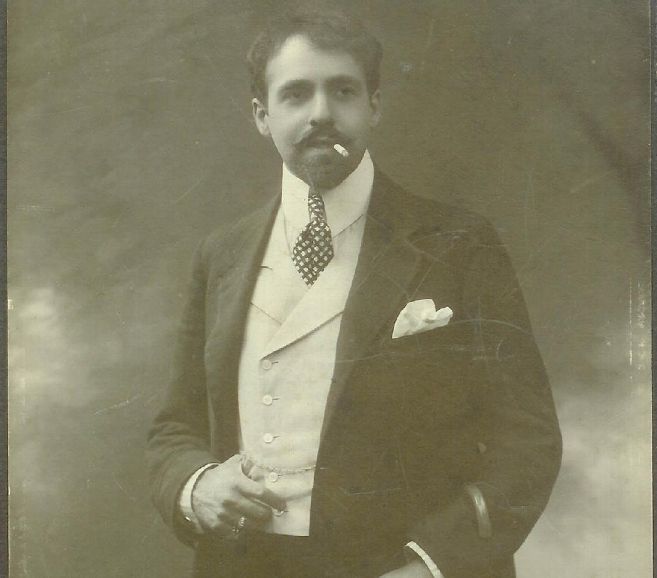 Already a prolific music critic in his own standing, Hahn was influenced even further by his relationship with Proust who may well have been the catalyst for Hahn's many extant eloquent reminiscences of artistic and social celebrities. Hahn's memoirs are valuable sources for the musical and literary life of the time.
Forced to leave Paris in 1940 during the Nazi occupation, he returned at the end of the war in 1945 to fulfill his appointment as director of the Paris Opéra. He died in 1947 of a brain tumor.