Anton Diabelli: prolific composer and arranger excelled in publishing guitar and piano music for beginners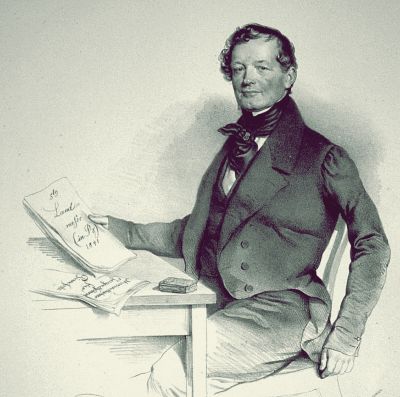 Anton Diabelli by Josef Kriehuber
Anton Diabelli
was an Austrian composer best known during the early
Romantic period
 for his work as a music publisher who arranged popular pieces to be played by amateurs at home. The composer's current relatively wide notoriety could be attributed to a waltz of his authorship which would later serve as an inspiration for
Beethoven
's famous set of thirty-three
Diabelli Variations
.
Of all his music, Diabelli paid most attention to guitar compositions, writing pieces for solo guitar, guitar duets, and guitar accompanied by various instruments. His guitar works are not too complicated and some are written as study guides which are now in demand among beginner guitarists.
Being involved in music since childhood, Anton Diabelli sang in the boys' choir at Salzburg Cathedral where he also learned composition under
Joseph Haydn
's younger brother Michael. At the very beginning of the 19th century, Diabelli appeared in Vienna where he made his living giving private lessons for guitar and piano and later working as a proofreader for a music publisher.
At the same time, Diabelli composed his own music, both sonatas for solo guitar as well as romances and preludes for a guitar duet. Published in 1814, his Recital Piece for Amateurs sold well, which convinced the composer to start his own publishing business with an emphasis on educational and popular music for beginners.
Listen to
Julian Bream
perform 
Allegro Moderato
from Anton Diabelli's 
Sonata in A Major
:
Diabelli's composer catalog contains around 200 works in various genres, the most influential of which remains his guitar and piano pieces written for pedagogical purposes.