Dionisio Aguado's guitar method and tripodison guitar stand have been in use for 200 years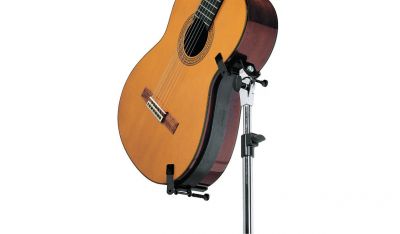 Performer Guitar Stand
Dionisio Aguado y García
was a Spanish composer who laid the foundations of modern performing techniques on
classical guitar
during the transition from the
Сlassical era
to the era of 
Romanticism
. Published in 1843, his
Nuevo Método para Guitarra
remains to be an up-to-date teaching tutorial that the honored guitarist
Andrés Segovia
recommended to his students.
In addition to teaching etudes and exercises, Dionisio Aguado composed complex concert works and was the first to use a guitar holder called tripodison designed to improve the sound of a classical guitar by minimizing the dampening effect of the player's body touching the instrument.
Dionisio Aguado spent most of his life in Madrid and its environs with the exception of his Paris years that spanned a nine-year period from 1826 to 1837. In Paris, he focused primarily on teaching and giving concerts together with another prominent guitarist
Fernando Sor
. Although their performing technique differed in how they used their right hand, both composers admired each other's guitar skills. Reportedly, Sor played with his fingertips to provide a perfect guitar tone while Aguado preferred to use his fingernails in order to increase the speed of his performance.
Listen to Dionisio Aguado's
Polonaise
performed by
Julian Bream
:
In his Nuevo Método para Guitarra and in its earlier versions, Dionisio Aguado presented the most complete and detailed tutorial of the nineteenth-century guitar and laid out the playing technique which we still use today. The text gives substantial advice on technical aspects such as hand positions, angles of the fingers, and ornamentation as well as contains a sufficient number of etudes and various exercises aimed at helping the student achieve a very particular tone quality.
It should be noted that Dionisio Aguado devoted his whole life to developing guitar manuals and writing music exclusively for this instrument. In his desire to extract the purest possible natural sound, Aguado designed a special stand to minimize the points of contact between the instrument and the guitarist's body. Although not often, Aguado's invention—which he named
tripodison
—
is used by modern classical guitarists to perform particularly complex works or simply for the convenience while playing acoustic or
electric guitars
.