Boogie Woogie Bugle Boy: the reveille that defined a generation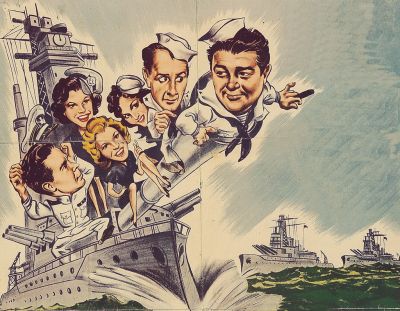 Buck Privates Film Poster
Boogie Woogie Bugle Boy
is an iconic World War II tune written by
Don Raye
and
Hughie Prince
for the military musical comedy
Buck Privates
which became one of the most successful films of 1941. The track was originally conceived for Lou Costello but was reworked soon for polyphonic vocals of
The Andrews Sisters
who appeared in the film performing four songs.
The song tells the story of one trumpeter who was drafted into the U.S. Army where instead of his favorite boogie-woogie he was forced to perform only the Reveille—a trumpet call chiefly used to wake military personnel at sunrise.
Climbing up to number six on the U.S. pop singles chart, Boogie Woogie Bugle Boy became one of The Andrews Sisters' most famous hits and even appeared in the Songs of the Century, a list that aims to "promote a better understanding of America's musical and cultural heritage" in schools. A number of publishers including Billboard Magazine made repeated attempts to find the real trumpeter who had inspired the songwriters and two real boogie-woogie trumpeters were found, though both began their military service after the film was released.
Listen to Boogie Woogie Bugle Boy by The Andrews Sisters:
Curiously, Japan used some of the comedy footage in military propaganda to show their troops the complete incompetence of the United States Army.