Taking off with Pistol Packin' Mama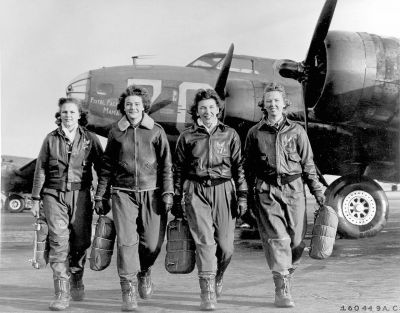 Group of Women Airforce Service Pilots
Pistol Packin 'Mama
is a fast-paced upbeat song with humorous albeit somewhat silly lyrics that became a hit in the
1940s
. It was originally recorded by
Al Dexter
and His Troopers who had adapted the acclaimed American folk tune
Boil Them Cabbage Down
and also parodied some of its phrases.
The song contrasted strongly with the harsh reality of the war years and did much to provide the much-needed reprieve in the years of collective mental exhaustion, particularly with the jovial singing of the lyric: "Pistol Packin' Mama, lay that pistol down." Very soon it spread to the troops where the song title, accompanied by the nose art of a woman in a cowboy hat, has been painted on dozens of military planes.
Al Dexter's original recording instantly topped the Billboard charts and reached millions in sales in just six months, although the version of the
Pistol Packin' Mama
recorded by 
Bing Crosby
and
The Andrews Sisters
is admittedly the better-known one. It was also banned by the NBC radio network until the lyrics were corrected to change the phrase "drinking beer in a cabaret" to "singing songs in a cabaret."
Listen to Pistol Packin' Mama performed by Bing Crosby and The Andrews Sisters:
It's possible that the given recording is cropped around 2:38 for lyrics correction according to the censorship guidelines at the time.