The classic Morricone flavor in Tarantino's spaghetti western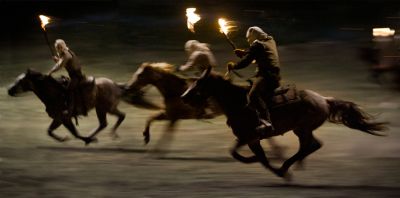 Composer:
Ennio Morricone
The soundtrack for Django Unchained contains both original and existing works, featuring songs Quentin Tarantino commissioned from Rick Ross, Anthony Hamilton, and John Legend, along with tunes from James Brown, Jim Croce, and Ennio Morricone. With a collaborative force such as this, the soundtrack reflects the new way of the director's use of music in his films.
Morricone's presence is the most pervasive, and his name appears on the tracklist more than any other artist. This may be due to the fact that Ennio Morricone is most recognized for his signature scores for classic Spaghetti Westerns—most notably The Good, The Bad And The Ugly—in the '60s and has since collected up five Oscar nominations. 
He contributed music to Django Unchained as well as three previous Tarantino movies: Inglourious Basterds and both Kill Bill films. However, the Italian composer has revealed his working relationship with Tarantino is over. According to The Hollywood Reporter, Morricone stated: 
"I wouldn't like to work with him again, on anything (...) I told him I couldn't, because he didn't give me enough time. So he just used a song I had written previously."
Morricone rejected Tarantino's methods, explaining that he "places music in films without coherence (...) You can't do anything with someone like that." 
The composer also revealed he wasn't too big on Django Unchained, saying:
"To tell the truth, I didn't care for it. Too much blood."
By the way, not only Django Unchained is Tarantino's highest-grossing film to the date, it has also picked up a couple of Oscars.
Here is the most noteworthy track by Ennio Morricone from that film, the classical guitar ballad Ancora Qui, sung by Italian pop singer Elisa Toffoli:
Another pleasant instrumental guitar tune by Morricone: