Instrumental simplicity of the quiet piano drama Breathe In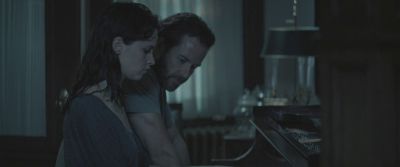 Felicity Jones and Guy Pearce
In the intimate story of a foreign exchange student who causes a deep and devastating rift in a close-knit upstate New York family, Drake Doremus' 2013 drama Breathe In completely wraps the viewer up in the emotions of its characters and doesn't let go for 98 captivating, intense, and ultimately heartbreaking minutes.
The narrative isn't contained in the privacy of the family's home, crossing over to their worklife, mainly unfloding over the course of music classes that the head of the family (Guy Pearce) teaches. This character point poses the academic aspect as one of the leading themes which is shown in the score's core simplicity.
American pianist and composer Dustin O'Halloran, who began his musical life as a guitarist, presents an excellent set of mostly short tracks reflecting the entire palette of moods that guides this chamber-like love drama.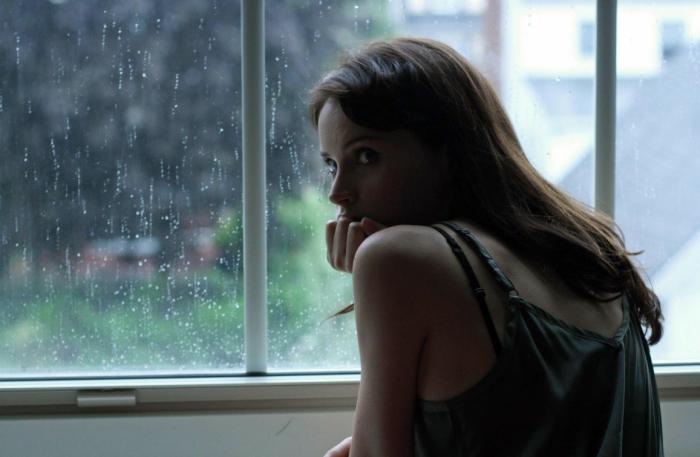 In addition to O'Halloran compositions, the soundtrack also contains fragments of renowned classical piano works. One of such call backs to academic music is Frédéric Chopin's piano etude, featured in a deeply striking scene when the main character (played by Felicity Jones) performs for the first time, showing her skill as per request of her teacher and host in front of the shocked class.
O'Halloran incorporates the classic sounds that drive this atmosphere while conveying the lightness and grave sobriety in each scene with the help of a rather humble set of instruments, such as piano, guitar, violin and cello.
In the aerial Swings, for instance, only a gentle piano can be heard, with just enough string support near the end:
Along with purely classical pieces, the composer finds space to weave folk motifs which, in their stripped-down modesty, give the score a much more dynamic pattern. 
Something similar can be heard in Forward No Return which perfectly combines the Irish dance harmonies captured by violins and cellos in different registers:
For all its harmonic homogeneity, this classically reliant score is pleasantly expanded by electronic fragments with the purpose of achieveing a more contemporary sound design that fits the film's visual language. 
One of such tracks is the drone-like The Arrival which ambience and meditative mood evoke the feeling one might get at the arrival of the sun. Even with relying on its core solo violin line, the track is fully built on a heavy synthesizer pad: