'English Dances' creator was fascinated by jazz in youth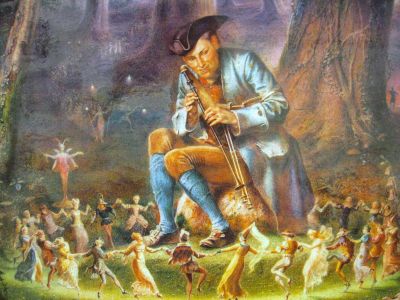 The Dance of the Little People by William Holmes Sullivan
Sir Malcolm Henry Arnold (1921–2006), British composer and conductor, has an impressive body of work to his name, including symphonies, ballets, operas, and concertos, but he is better known to the general public for his film scores, notably Bridge on the River Kwai (1957), for which he won an Academy Award. 
The Northampton shoe-making family to whom Arnold was born was interested in music and prosperous enough to nurture his early talents. His obsession with jazz had, by the age of 15, led him to take lessons from Ernest Hall, the leading trumpeter of the time, and after incomplete studies at the Royal College of Music, London, he joined the London Philharmonic Orchestra in 1940. 
He remained an orchestral trumpeter until 1948, apart from a period in the army, which he loathed. The bullet wound in his foot that led to his discharge was apparently not from enemy action, nor seemingly from a third party of any sort.
After the war and with the award of a Mendelssohn scholarship behind his belt, he left the orchestra, studied in Italy for a year and eventually took up composing full time.
In the flourishing trend towards the ascetic, the cerebral and the experimental that dominated the postwar space, his music gave immediate and unconditional enjoyment to performers and listeners alike. It was full of tunes defined by technical brilliance and unselfconscious fun. Occasionally, a darker side to his personality would surface, sometimes in his music or, sadly during several periods, in his mental well-being.
The two sets of
English Dances
, full of memorable tunes in the style of folk songs, are among Malcolm Arnold's most popular works. They were written in response to a suggestion made by Arnold's publisher to write some British works in the style of
Antonín Dvorák
's
Slavonic Dances
.
The first set of English Dances was completed late in 1950, and next year Sir
Adrian Boult
conducted the London Philharmonic Orchestra in their premiere.