Für Elise: 2 versions of Beethoven's best-known piano piece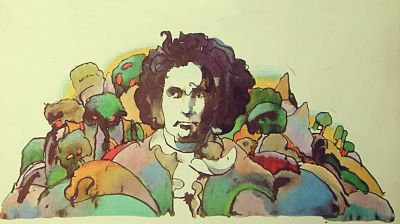 Beethoven's Greatest Hits LP cover
Bagatelle No. 25 in A minor
, commonly known as
Für Elise
, is undoubtedly
Beethoven
's best-known piano work as well as one of the most highly recognizable masterpieces of classical music. The delightful melody and relative simplicity of the piece allowed to be included in the curriculum of studies in many music schools around the globe.
What might come as a surprise to some, however, is the fact that there were two distinct versions of Für Elise released a hundred years apart. Some researchers believe that Beethoven might not have been the person who gave the piece the form that we know today.
The now widespread version of
Für Elise
was first published by the musicologist
Ludwig Nohl
in 1867, forty years after Beethoven's death. Nohl reportedly discovered the original autograph manuscript titled "Für Elise am 27 April zur Erinnerung von L. v. Bthvn" which was later lost.
Listen to Ludwig Nohl's edition of Beethoven's
Für Elise
performed by 
Lang Lang
:
Another little-known version was transcribed from Beethoven's later manuscript by contemporary musicologist
Barry Cooper
who, among other things, assembled a fifteen-minute fragment from Beethoven's hypothetical
Symphony No. 10
.
The differences between the two editions of Für Elise are well understood from the very first seconds of the piece due to some nuances in the melody of the main theme, and further listening reveals the drastic changes in the accompaniment.
Listen to Barry Cooper's edition of Beethoven's
Für Elise
performed by 
Tobias Koch
:
Curiously, it is not known for certain who exactly "Elise" was. Some sources suggest that Beethoven dedicated his famous bagatelle to Elisabeth Röckel or Elise Barensfeld, both prominent German soprano singers of the time. Another theory explains that the work was originally titled Für Therese and was written for Beethoven's friend and student Therese Malfatti.