Beethoven's famous piano trio carried the genre to the Romantic era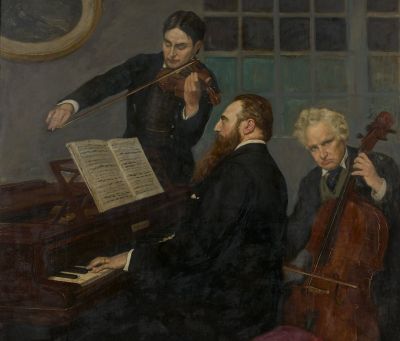 Trois Musiciens Dans un Intérieur by Henry Caro-Delvaille
Piece of Music:
Archduke Trio (Piano Trio in B-flat major, Op. 97)
Compositions written for a group of three instruments where the leading
piano
is usually accompanied by a
violin
and
cello
began to rise in
sonata
form during the
Classical period
when many significant composers, including
Mozart
and
Haydn
, created a genre called the
piano trio
.
Initially, violin and cello played a secondary role in the genre, expanding the timbre and basically doubling the piano. Eventually, all the instruments received individual parts and formed something of a three-part dialogue. By the beginning of the
Romantic period
, all three instruments were essentially modified to produce a more powerful sound which allowed
Beethoven
to set new standards for the piano trio—one of the most popular genres of chamber music.
One of the best works for piano, cello, and violin is considered to be Archduke Trio—the masterpiece which crowns Beethoven's cycle of 12 piano trios written by the composer in his so-called "middle period". The piece, created between 1810 and 1811, was dedicated to Rudolph Johann Joseph Rainier, Archduke of Austria, who was a close friend and student of the composer.
Beethoven dedicated to Archduke Rudolf a total of ten works in various genres as a token of gratitude for the entire support that Rudolf provided to the art and the composer personally.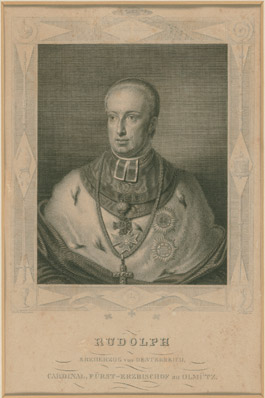 One of the tragic events in Beethoven's biography is said to have taken place during the first public performance of Archduke Trio that coincided with the composer's growing deafness which no longer allowed him to play musical instruments brilliantly. After the premiere in 1814, Beethoven performed in public only a few times and only as a pianist until he completely stopped the practice the same year.
Here is how this dramatic moment was described by the composer Louis Spohr who attended the Archduke Trio rehearsal:
"On account of his deafness there was scarcely anything left of the virtuosity of the artist which had formerly been so greatly admired. In forte passages the poor deaf man pounded on the keys until the strings jangled, and in piano he played so softly that whole groups of notes were omitted... I was deeply saddened at so hard a fate."
Listen to Beethoven's
Piano Trio in B-flat major (Archduke Trio)
performed by 
Leonid Kogan
, Mstislav Rostropovich, and Emil Gilels:
For a better balance of the musical form, Beethoven wrote his trios in four movements and also adapted his early symphonies for piano, violin, and cello. These genuine masterpieces revolutionized the chamber music of the Romantic era by inspiring numerous followers, including
Antonín Dvořák
, Robert Schumann, and
Felix Mendelssohn
to create music in this genre.