Famous Sibelius piece was commissioned for a plywood mill anniversary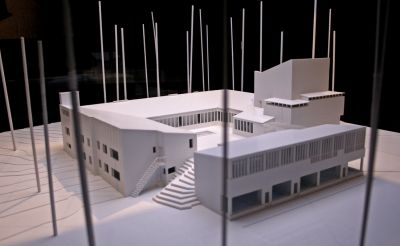 Säynätsalo Town Hall designed by Alvar Aalto
Jean Sibelius originally wrote Andante Festivo for a string quartet which was later made all the more luscious when he rearranged the piece for the orchestra.
In 1922, Walter Parviainen, the director of Säynätsalo sawmills in Finland, commissioned Sibelius a festive cantata for the 25th anniversary of the plant. Sibelius quickly decided on a small work of only a few pages intended for a string quartet. 
While it would have been rather fashionable, as well as appropriate for the occasion, to incorporate the mechanical features of the mill into the piece, Sibelius' greatest inspiration was, in fact, the nature surrounding the plant. 
The premiere of this work was on a live radio broadcast for the United States. In preparation for the event, the composer had listened to numerous radio broadcasts to gauge the specifics of the sound. The imperfections of the loudspeakers at the time had annoyed him, leading him to think that one should compose differently for the radio than for live concerts.
He'd decided to try this out in practice, at the premiere, when at 73 years of age Sibelius agreed to conduct the orchestra after almost a decade-long break.
Listen to Sibelius' Andante Festivo performed by Neeme Järvi with Gothenburg Symphony Orchestra:
Säynätsalo, an 'island suburb' with the population of 3 thousand, is virtually surrounded by Lake Päijänne on all sides, and the nature encountered on this island is particularly diverse.