The Oceanides: the deeply impressionistic tone poem by Sibelius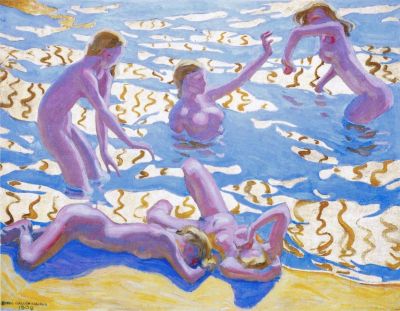 Aallottaret (The Oceanides) by Akseli Gallen-Kallelan
The magnificent mythology of ancient Greece describes the Oceanids as water nymphs whose life and functions are associated mainly with freshwater, although they can also appear in the seas and oceans. Indeed, the famous myth of the campaign for the Golden Fleece tells of Argonauts, the heroes who beg the "nymphs, sacred of the race of Oceanus" to show them "some spring of water from the rock or some sacred flow gushing from the earth".
Various sources mention around one hundred different names of the Oceanids including Amalthea, Calypso, and Electra, while the total number of these water deities amounts to three thousand. All Oceanides are daughters of the Titan Oceanus and the sea goddess Tethys. 
In classical music, there is only one work titled
The Oceanides
which was written by the Finnish composer
Jean Sibelius
for the 1914 Norfolk Music Festival in Connecticut, US. This influential work is a single-movement
symphonic poem
, the
genre
that originated in the middle of the
Romantic period
to illustrate the content of a poem, painting, landscape, or other non-musical art forms.
Sibelius was also invited to conduct at the premiere, and he gladly accepted the offer since his regular concert activity had been cut short by the Great War raging in Europe. It is known that the composer continued to work on the tone poem during his overseas travels when he could observe the ocean at different times of the day, weaving expressive landscapes into the score.
Thematically, the tone poem observes a gradual increase in musical texture, unfolding into three oceanic landscapes: the placid ocean, gathering storm, and thunderous wave-crash climax. Many musicologists consider The Oceanides to be the most impressionistic work by Sibelius since it includes compositional techniques and musical modes inherent to that art movement.
It is reported that Sibelius was delighted with the orchestra drawn from the best musical societies of the
New York Philharmonic
, the Metropolitan Opera Orchestra, and the Boston Symphony Orchestra. The musicians developed exciting performing synchronism in a span of three rehearsals, and the premiere itself, after receiving a standing ovation, was praised as "the finest evocation of the sea which has ever been produced in music".