The attractive sounds of Nordic Romanticism of Wilhelm Stenhammar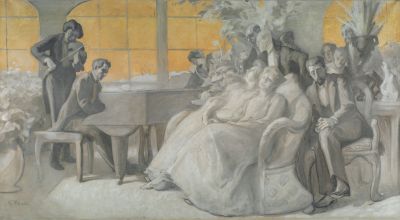 Musiken by Georg Pauli
Swedish pianist
Wilhelm Stenhammar
was one of the few composers who remained faithful to the ideas of
Romanticism
in the turbulent beginning of the 20th century when musical experiments prevailed over the classical foundation.
Being primarily a self-taught composer, he spent much time exploring the counterpoint theory which imbued his works with a sensitive grace. As a conductor, Wilhelm Stenhammar also achieved strong success heading the Gothenburg Symphony.
Wilhelm was born in 1871 in Stockholm into the family of architect Per Ulrik Stenhammar who mainly designed village church buildings and, as a self-educated organist and composer, wrote a number of religious pieces.
In the highly creative environment of his musical family, Wilhelm's talent for composition first began showing as early as his childhood years when he started writing for the Stenhammar Quartet made up of his elder siblings. After leaving the school, Stenhammar focused entirely on the study of piano and composition for which he took both private lessons and formal training in the academies of Stockholm and Berlin.
In 1894, he saw his first success in Stockholm when his Piano Concerto in B minor was noticed by critics who marked him as a young artist of great genius and promise. This event also brought Stenhammar into contact with Danish composer and impresario Henrik Hennings, who served as his publisher and concert agent.
Wilhelm Stenhammar by Robert Thegerström
: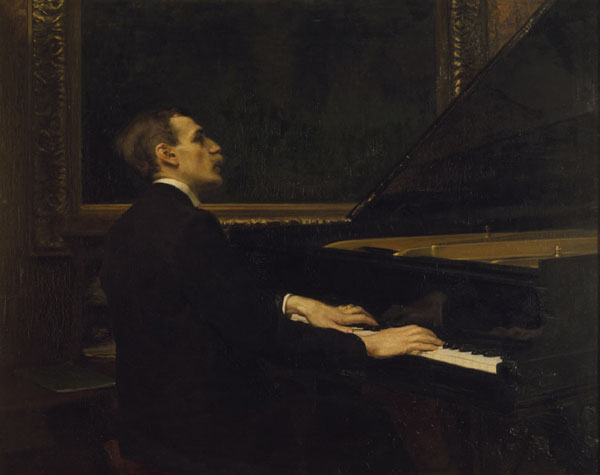 Initially taking the publishing contract very positively, Stenhammar was forced to interrupt it at the end of the century due to his disinclination to be a "compositional factory laborer". In the early 20th century, he also became disillusioned with his European career outside of Sweden, believing that he was capable of:
"...carrying out a great and significant mission and occupying a well-deserved place in modern Swedish culture."
The situation was resolved in 1907 when Stenhammar accepted an offer to be the conductor for Gothenburg Orchestral Society. He stayed in Gothenburg for fifteen years during which he facilitated the orchestra's rise into one of the best in the Nordic region. 
Listen to Stenhammar's early work Excelsior Symphonic Overture performed by Neeme Järvi with Gothenburg Symphony:
Stenhammar, distressed by modernist movements in music, began his in-depth studies of counterpoint theory in the 1910s. Skeptical of atonal principles of the Second Viennese School and its leader Arnold Schoenberg, Stenhammar was searching for a guiding principle that allowed creativity in the age of modernism without breaking the tradition itself:
"In these times of Arnold Schoenberg, I dream of an art far removed from Arnold Schoenberg, clear, joyful and naive."
In his search for the special Nordic sound, Stenhammar communicated with famous composers of his time including
Jean Sibelius
and
Carl Nielsen
.
In the 1920s he moved to Stockholm where he was offered the post of conductor at the Royal Swedish Opera. However, his stint as chief conductor at the opera was short-lived. In 1927 Stenhammar died following a brain hemorrhage.
Stenhammar is considered to be one of the most important Scandinavian composers of his era, and his works—including songs, choral and orchestral pieces—represent the best Swedish music at the turn of the century.