Ferry Cross the Mersey: Merseybeat classic arranged by the Fifth Beatle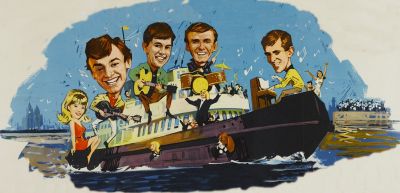 Ferry Cross the Mersey film poster
Ferry Cross the Mersey
is the best-known track of the Liverpool rock band
Gerry and the Pacemakers
 released in the mid-1960s to later hit the charts on both sides of the Atlantic. The lyrics of the song describe—in a rather sentimental way—the famous ferry crossing of the River Mersey that gave its name to the term
Merseybeat
used as a reference to the beat music of British origin.
The song, written by
Gerry Marsden
, appeared in the music film
Ferry Cross the Mersey 
which focuses on Gerry and the Pacemakers' attempts to navigate the Liverpool beat scene. The film was quite obviously conceived as a variation on the successful
A Hard Day's Night
 starring 
The Beatles
.
The film's main storyline revolves around a music contest that Gerry and the Pacemakers are aiming to win, but just before they go on stage, they discover that their instruments have been mistakenly sent to the airport by the funeral home chartered to carry their gear. Everything ends well, and the band still manages to perform and win the competition.
Listen to Ferry Cross the Mersey by Gerry & The Pacemakers:
Curiously, the similarities between The Beatles and Gerry and the Pacemakers are not limited to their Liverpool origins as both bands were directed by Brian Epstein and recorded by
George Martin
 who was nicknamed the Fifth Beatle for his immense involvement in the composition and production of the band's music. It is his soft classical orchestration with woodwinds and background strings that creates the illusion of the smooth swaying of the waves in
Ferry Cross the Mersey
.