Who is the true architect behind The House of the Rising Sun?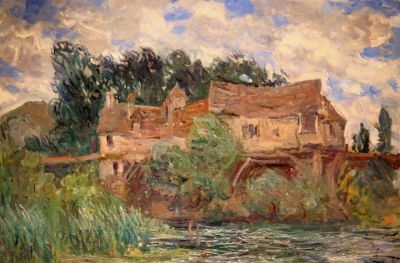 Houses on the Old Bridge at Vernon by Claude Monet
The authorship of The House of the Rising Sun can not be accurately determined to this day, since the song is a folk ballad.
It is based on the tradition of the 16th century ballads, and the melody might be related to a 17th century folk song Matty Groves. Presumably, The Rising Sun was the name of some English pubs, and the location was changed from England to New Orleans by Southern singers. The first known version of the lyrics was printed in 1925.
The oldest record, made by the artists Clarence Ashley and Gwen Foster, was released in 1933 under the title Rising Sun Blues. Ashley said he had learned the ballad from his grandfather.
In 1937, the song was released by the folk singer Georgia Turner, and hundreds of covers were later produced by numerous performers, including Dave Van Ronk, Bob Dylan, Joan Baez, and The Animals, but it's the latter's cover that turned the ballad into a worldwide hit.
The ballad is still popular these days, and you can dive into its modern version as covered by Muse: