First musical steps of Bhimsen Joshi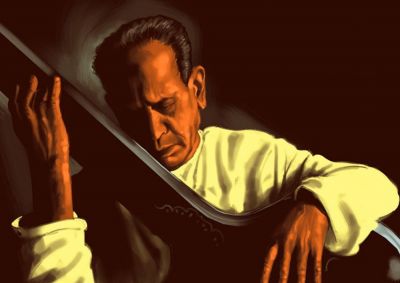 Bhimsen Joshi
Bhimsen Joshi
was a highly regarded vocalist who organically combined all aspects of
Indian classical
music, be it Hindustani ragas, devotional songs of South India, or playback singing for films. He skillfully balanced traditional values with contemporary mass-culture tastes, and his vast legacy is recognized by some as one of the largest commercially recorded classical repertoires.
Unlike most classical musicians brought up in musical dynasties, Bhimsen Joshi was born in a teacher's family, and many of his great talents were developed out of his pure love for music as well as the immense zeal that he showed as a child when he left home in search of his musical destiny.
Bhimsen Joshi showed the first signs of musicality when he was still a very young boy and loved processions accompanied by musical bands, so he often just followed them, enraptured and seemingly lost to the world, and as a result, was not always able to find his way home. To find him, his father would often contact the police until he eventually came up with the idea to write his own name on the boy's clothes and the instructions of how to return him home. By the age of eleven, Bhimsen Joshi had left his taluka in Karnataka and embarked on an independent journey through northern India where he looked for his future music guru and used every opportunity to study music. Only three years later, his father was able to find him and return him home.
Listen to bhajan 
Jo Bhaje Hari Ko Sada
set to 
Bhairavi raga
by Bhimsen Joshi:
In the
1940s
, Bhimsen Joshi recorded his first album of devotional songs in Marathi and Hindi thus marking the beginning of his professional musical career which lasted about sixty years and brought him a dozen of the highest civil honors in India, including Bharat Ratna. Many fascinating stories surround his name, but his childhood wanderings remain the clearest indicator to his total committment to music.