First solo trumpet piece in history belongs to German multi-instrumentalist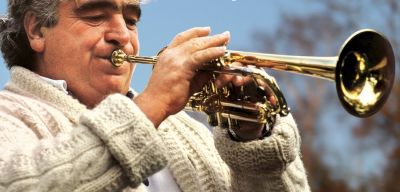 Maurice André
Composer:
Georg Philipp Telemann
The Concerto in D major for trumpet, violins, and basso continuo, is a shiny eight-minute work composed by Georg Philipp Telemann during the 1710s. It is among the first solo trumpet pieces composed by the German maestro. Some musicologists suppose that it may be the first such work for trumpet.
By contrast with tons of other music written for solo trumpet nowadays, the Concerto in D major might not sound especially daring. However, Telemann's instrument was not the gentle modern valved trumpet but the longer valveless Baroque trumpet - a device with a relatively limited choice of pitches. 
Many fans view Telemann as a herald of the elegance and grace of the Classical era. Though Telemann also played organ, he considered himself first of all a flutist, violinist, and a singer. 
The composer left no questions as to the influence vocal music had on his style: 
"Who plays on instruments must be versed in song"
With that accent on lyricism, it's no coincidence that Telemann's most famed music constitutes hundreds of pieces he composed for wind instruments.
Here is Telemann's concerto performed by
Maurice André
, French trumpeter who was known for his superlative musicianship and clear tones: