Gandhi's devotional song was arranged on Galgibaga beach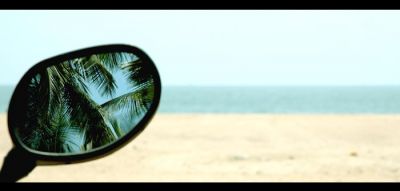 Galgibaga beach, Goa, India. Photo by 4i @ flickr
Piece of Music:
Raghupati Raghav Raja Ram
Raghupati Raghav Raja Ram is a famous devotional song that was widely popularized by Mahatma Gandhi.
While the origins of the song are not entirely clear, the main arrangement came from Vishnu Digambar Paluskar who is credited with the foundations of Hindustani classical music. He composed the Raghupati for Gandhi with the hope that he would take it to the people. This version was sung by Gandhi and his followers as they walked the famous Salt March in 1930.
Since then the song has spread widely in India and still makes regular appearances in films and other media. 
Some Indian composers have worked on various arrangements of the song including Lourdino Barreto, born in a tiny Goan village. His musical studies began at the Parochial School on Galgibaga beach which eventually lead him to earning the title of Maestro in Rome's National Conservatory.
Barreto's creative approach consisted of blending Goan, Indian and Western musical forms to create a unique form of music. His Symphony on an Indian Raga was played by the Boston Symphony Orchestra.
Here is a modern studio recording of the Raghupati Raghav Raja Ram in its original form: