Ghosts of past wars alive in the Lowlands of Holland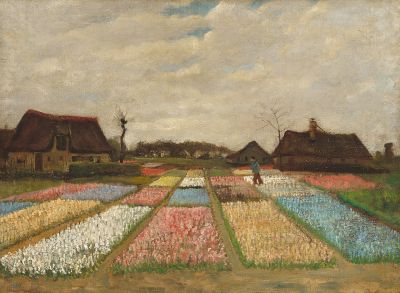 Bulb Fields by Vincent van Gogh
The Lowlands of Holland is a popular British folk song that depicts a young widow mourning her husband whose ship was sunk in a navy battle during the war with the Dutch. 
There are several versions of the lyrics that include or change certain details: some of them describe the young man's enlistment, though it varies between the Navy or the Army; some only focus on the wife's grief after his death as she refuses to adorn herself or marry again; some tell about the widow's mother advising her to find a new partner or a full story of the young man's ship sinking; and sometimes there is even a verse describing the beauty of Holland left unobscured even by death.
The Lowlands of Holland likely originated during the Anglo-Dutch Wars in the 17th century and enjoyed revivals in popularity during the Wars of Louis XIV as well as the Napoleonic Wars. 
The tune is thought to be of Scottish origin, although it has seen other folk influence throughout the British Isles. 
The song has been covered so many times that today it would be fair to say that perhaps every folk artist has it in their repertoire.
Listen to an outstanding cover by Martin Carthy, the father of the '60s English folk revival:
Martin Carthy is an English folk singer and guitarist who has remained one of the most influential figures in British traditional music. By 1966, only with two albums behind his belt, Carthy already had a massive influence on Bob Dylan and Paul Simon, and by the end of the '60s he was a de facto mentor to virtually every serious aspiring folk musician in England. 
Scarborough Fair by Martin Carthy: